New Delhi, 20th June 2019
A conference on 'Intellectual Property through Collaborative Enforcement' was organized by United IPR in association with PHD Chambers of Commerce and Industry at PHD House, New Delhi on June 20, 2019. It was presided by Hon'ble Mr. Justice Dipak Misra, Former Chief Justice of India, as the Chief Guest. Other dignitaries who graced the event include Hon'ble Mr. Justice Manmohan Singh, Chairman - IPAB; Shri Rajeev Talwar, President - PHD Chambers; Mr. Suvashis Chaudhary I.P.S., Additional Commissioner of Police - Delhi Police; Mr. N. R. Meena, Deputy Controller - Patents & Designs; Professor C. J. Rawandale, Director, Symbiosis Law School - Noida; and Mr. Sudarshan Kumar Bansal, Partner - United IPR.
With a focus on collaborative Enforcement between various state authorities and enforcement agencies, the Conference discussed growth and development of IPR regime in India along with the steps taken by the government to promote IP together with the role of judiciary and agencies in enforcement of IPR laws in the country. It stressed the need for stringent implementation of existing laws in the country to safeguard intellectual property rights.
Delivering the special address, Hon'ble Mr. Justice Dipak Misra stressed on the need for "Intellectual Vigilance" with a view to protect those who were creating, inventing or were busy in the field of innovations. Further, he highlighted how collaborative enforcement in today's competitive environment had placed itself on a pedestal in the context of economic growth and was becoming increasingly important.
The Guest of Honour, Hon'ble Mr. Justice Manmohan Singh, Chairman of IPAB in his keynote address discussed the entire jurisprudence of the enforcement and development of the Intellectual Property Rights regime in India.
Talking about the steps taken by Government of India to promote intellectual property rights, Mr. N. R. Meena, Dy. Controller General of Patents, Designs and Trademarks highlighted the key developments with respect to enforcement and examination taken up by the Office of Controller General of Patents, Designs and Trademarks and creating awareness amongst the public regarding counterfeits and IPR Enforcement Mechanisms.
Moving towards an Institutional and Academic Perspective, Professor C.J. Rawandale addressed the gathering on the need to change the outlook in terms of understanding Intellectual Property as a Right and its need to be protected.
Sharing best practices for IPR enforcement in India, Mr. Sudarshan Kumar Bansal, Partner, United IPR stressed on the applicability of the rule of law in the enforcement of Intellectual Property Rights. He pointed out that there are adequate laws and mechanisms present in India, however there is an imminent need to create effective awareness and prioritize the same and IPR laws if well used can be a great stimulus for business development.
Menace of fake and counterfeit goods (both online and offline spheres) is adversely affecting the economy as well as the consumers. It is one of the major challenges that is faced by the IP right holders. Against this backdrop, the conference featured a panel discussion on 'Enforcement of IPR in the markets of India and at the territorial borders' chaired by Dr. H.P. Kumar, Advisor at MSME Facilitation Center of PHD Chambers and the panelist speakers included Mr. Mahesh Kumar - Deputy Commissioner of Customs, Mr. Amardeep Sehgal - Assistant Commissioner of Police, Economic Offences Wing of New Delhi and by Mr. Gaurav Gogia, Advocate and Senior Associate, United IPR.
This was followed by another panel discussion chaired by Mr. H.P. Kumar on 'Industry's perspective on enforcement of Intellectual Property Rights' featuring experts from the legal world and industry with a focus on brand awareness and identification aspects of the participating right-holders. The panelists included Mr. Naveen Chandra Kushwaha - Head Legal, Luxottica India, Mr. Sushant Singh, Advocate and representatives from United IPR representing Procter & Gamble, Hugo Boss, L Brands, Lacoste and Audemars Piguet. The discussion drew references to counterfeit products being freely circulated and sold through several E-commerce platforms as well as in the markets. The panelists agreed that there is an imminent need to combat the menace of counterfeiting, both online and offline.
The conference witnessed active participation of close to 300 delegates from the legal fraternity, industry, students and officials from law enforcement agencies. The conference attracted massive attention from the press and was widely reported in print as well as electronic media such as Times of India, The Hindu, Indian Express, Business Standard and many more.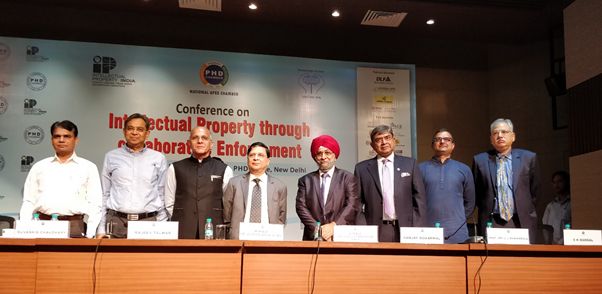 The content of this article is intended to provide a general guide to the subject matter. Specialist advice should be sought about your specific circumstances.