Apple Inc. is well known for actively protecting its coveted 'bitten Apple' logo all around the world. The company, having established one of the most sought after brands in the international market, leaves no stone unturned to protect its intellectual property from any chance (even the slightest chance) of being misused.
One such case is Apple's recent law suit against 'Apfel Route' a mark adopted by the Rhein-Voreifel Tourism for its brand new themed cycling route in Germany. The official website of Apfel Route states that it will be launched on May 19, 2019. Some would ask, why use an Apple in the logo for a cycling route. The website does throw light on that too. Apparently, Rhenish Apple Route is a 120 km long route through the largest fruit and vegetable growing region in North Rhine-Westphalia. It consists Apple and Cherry orchards in the mountains of Eifel on the horizon to Rhine.
The logo of Apfel Route was approved by the German Patent and Trademark Office (GPTO). However Apple has now raised an objection for its grant.
Though prima facie, there seems to be no likelihood of confusion when the two logos are compared, we await a technical review from the GPTO. Watch this space for more updates in the matter.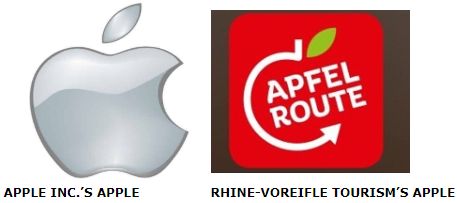 The images used herein are only for representational and academic purposes and we do not claim any copyright in them.
Compiled by: Adv. Sachi Kapoor | Concept & Edited by: Dr. Mohan Dewan
The content of this article is intended to provide a general guide to the subject matter. Specialist advice should be sought about your specific circumstances.