Patents have been a very functional and important aspect of Intellectual Property Rights (IPRs). They are also one of the oldest laws of IPR that have been prevalent in India since 1856. However, after lot of repeals and amendments, the final draft was introduced as Patent Act, 1970, which came into force in 1972. This Act and Patent Rules also went through a lot of amendments, the last amendment being in March -2016, in furtherance to the establishment of the National IPR policy.
One key objective of these developments in the IPR field has been to increase and strengthen the IPR laws, and also to enhance the procedure of Patent registration. However, these changes and amendments have not only given incentives to the inventors to get their works patented, but have also built up their faith in the administrative bodies (Patent office) that are involved in the grant/issuance of Patents.
As is known, the Indian Patent Office is spread over four locations, namely Delhi, Mumbai, Kolkata and Chennai that administer the laws concerning protection of inventions in the country by way of grant of exclusive rights in the form of Patents to the Applicants for a limited period.
Following are the charts of the First Examination Reports (FERs) that have been issued in the year 2015, 2016 and 2017.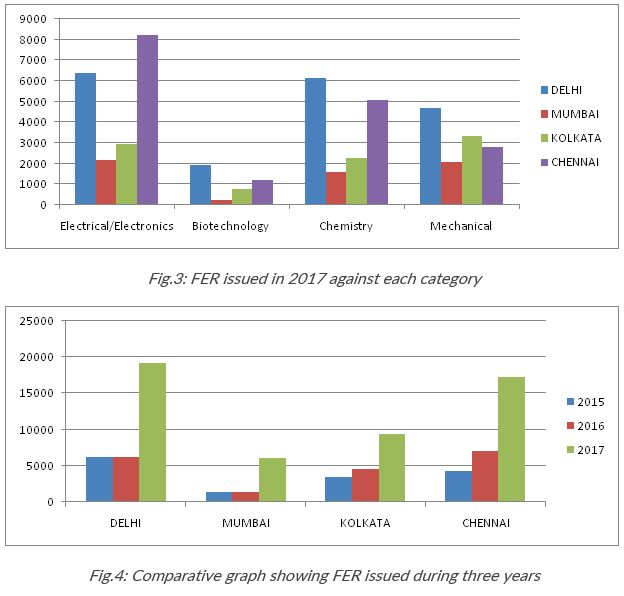 By perusing the above graphs, it is quite evident that the offices have largely worked at par in the year 2015 and 2016. However, in the year 2017, Patent offices have shown considerable surge in the issuing of examination reports when compared to previous years. Therefore, it can be safely inferred that the recent amendments and developments in the Indian Patent laws have brought about a positive change in functioning of the Patent prosecution, thereby building trust and faith of the inventors as well as of Applicants who file their Patent Applications in India, thereby complying with the National IPR policy.
Download >> Growing efficiency of Patent Prosecution in India – Comparative Study (2015 through 2017)
The content of this article is intended to provide a general guide to the subject matter. Specialist advice should be sought about your specific circumstances.