Foreword
We are pleased to present SKP Investment Chronicle – our quarterly update that focuses on the deal-making landscape in India, comprising Mergers and Acquisitions (M&A), equity investments, and exits. In this report, we look at India's transactions arena in the second quarter of 2019.
The first quarter of 2019 began on a relatively cautious note with the deal landscape measuring USD 16.6 billion mainly on account of decline in Inbound M&A investments and Private Equity exits. The deal value increased marginally in Q2 2019 to USD 18.1 billion. However, as compared to same quarter last year, a sharp decline of 66% was observed.
This quarter's deals were primarily focused on the Financials and the Information Technology sector.
Investments in the consumer discretionary and consumer staples sectors observed a notable decline.
In the first week of July, Nirmala Sitharaman presented the budget on behalf of Modi Government 2.0 where there were numerous aspiring proposals for the overall development with focus on infrastructure, education, financial service sector, agriculture and rural development which forms the backbone of the Indian economy.
One of the key proposals of budget 2019 was the allowance of Foreign Portfolio Investors (FPIs) in listed debt securities issued by Infrastructure Investment Trusts (INVITs) and Real Estate Investment Trusts (REITs). Due to this, we for-see an increase in the deal volumes in the Real Estate sector.
The Government is also examining to relax the foreign direct investment (FDI) norms for various sectors such as media, aviation, insurance, and single-brand retail, which might see some momentum in overseas investments.
As a measure of relief for start-ups, the Finance Minister in her speech mentioned that the angel tax issue would not be scrutinized by tax authorities if requisite declarations and information are made available in return. Angel tax is income tax levied on the capital raised via the issue of shares by unlisted companies from an Indian investor if the share price of issued shares is more than over the fair market value of the shares. This may boost the sentiments of the angel investors.
Overall investors were cautious in the first half of 2019. However with the stable government coming in and the major initiatives in pipeline, we expect increased interest of overseas investors.
Quarterly Compass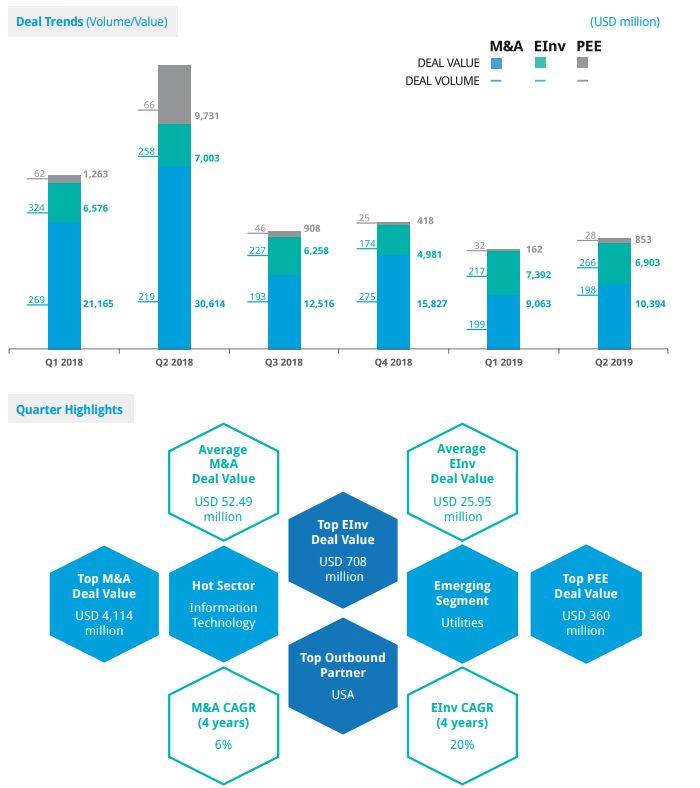 To view the full article click here
The content of this article is intended to provide a general guide to the subject matter. Specialist advice should be sought about your specific circumstances.