There is no doubt that enforced working from home ('WFH') during the early stages of the pandemic has accelerated changes in the way we work. Partly motivated by the initial response to lockdown measures, partly by a need to accommodate individual circumstances, employers and employees have had to adapt to changes in where, how and when work is done.
Both Guernsey and Jersey have been fortunate in that employees have been able to return to workplaces that are relatively Covid-19 secure since lockdown measures were eased, but the legacy of WFH has led many employees to ask for temporary flexible working arrangements to be formalised.
Whilst in Jersey every employee has the statutory right to request flexible working in the form of a change to their contractual working hours, times of work or place of work, in Guernsey there is currently no equivalent right. However, the concept of flexible working was approved by Guernsey's government as part of the Longer Working Lives strategy in February 2018 when a proposition to progress an action plan for flexible working proposals along similar lines to Jersey and UK legislation was passed.
See our flowchart which shows the legal framework around flexible working requests in Jersey, which might also be a useful guide to any Guernsey employer considering introducing a non-statutory flexible working policy.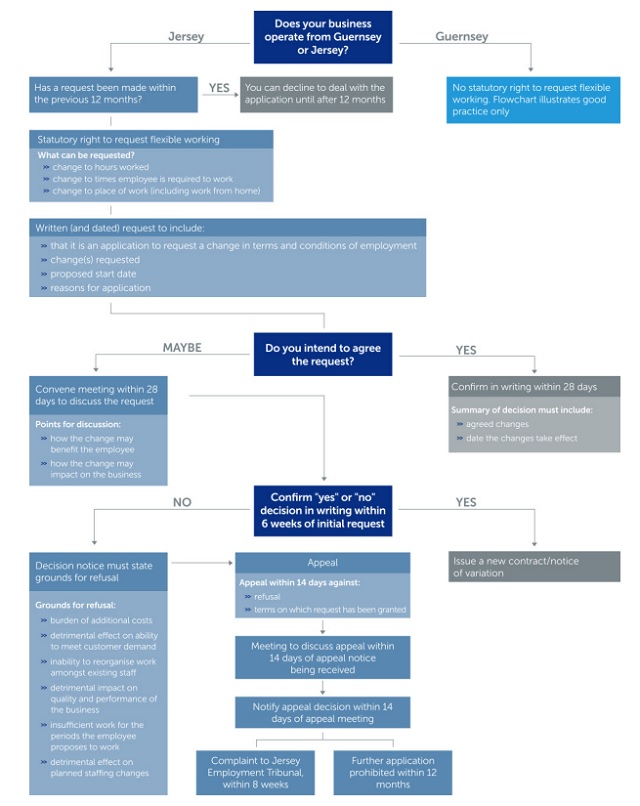 The content of this article is intended to provide a general guide to the subject matter. Specialist advice should be sought about your specific circumstances.