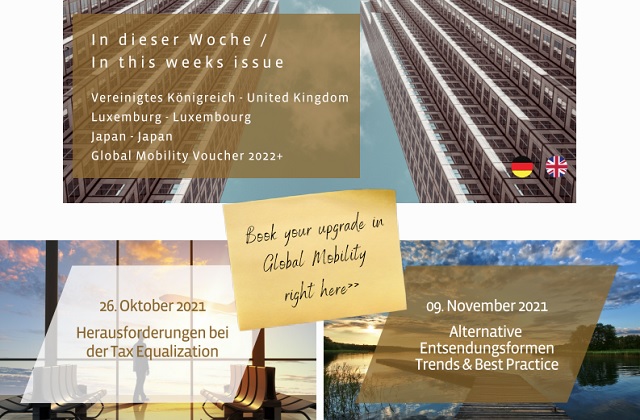 Vereinigtes Königreich / 14. Oktober 2021
Einführung neuer Einreiserichtlinien per 1. Oktober 2021
Geschäftsreisen nehmen gerade wieder zu, auch wenn es in Bezug auf die verschiedenen COVID19- Einreisemassnahmen nach wie vor an vieles zu denken gilt. Hinzukommt nun auch noch eine neue Regelung für die Einreise in das Vereinigte Königreich.
Bis dahin bestand die Möglichkeit mit einem gültigen Personalausweis nach Grossbritannien einzureisen. Jedoch haben die britischen Behörden per 1. Oktober 2021 diese Regelung überarbeitet. Mit sofortiger Wirkung (d.h. ab dem 1. Oktober 2021) ist eine Einreise nach Grossbritannien für EU-, EWR- und Schweizer Bürger nur noch mit einem gültigen Reisepass gestattet. Reisende, welche nicht über einen gültigen Reisepass verfügen, müssen damit rechnen, dass ihnen die Einreise untersagt wird.
Neben den Änderungen zum Einreiseverfahren hat das britische Innenministerium die Einreiserichtlinien von Mitarbeitern, welche für einen ausländischen Hersteller oder Zulieferer arbeiten und nach Grossbritannien einreisen, angepasst. Die Mitarbeiter dürfen für die Installation, Abbau, Reparatur, Unterhalt oder Beratung von Maschinen, anderem Equipment, Computer-Hardware oder -Software nach Grossbritannien einreisen. Auch die Schulung von Mitarbeiterin Grossbritannien eines Kauf-, Liefer- oder Leasingvertrag mit einer britischen Unternehmung ist möglich. Für sämtliche in diesen Verträgen geregelten Dienstleistungen dürfen Mitarbeiter des ausländischen Unternehmens nach Grossbritannien einreisen.
United Kingdom / October 14, 2021
Introduction of new entry guidelines as of October 1, 2021
Business travel is just picking up again, even though there is still a lot to think about in terms of the various COVID19 entry regulations. In addition, there is now also a new regulation for entry into the United Kingdom.
Until then, it was possible to enter the UK with a valid ID card. However, the British authorities have revised this regulation as of October 1, 2021. With immediate effect (i.e. as of October 1, 2021), entry to the UK for EU, EEA and Swiss citizens is now only permitted with a valid passport. Travelers who do not have a valid passport must expect to be banned from entering the country.
In addition to the changes to the entry procedure, the British Home Office has adjusted the entry guidelines for employees who work for a foreign manufacturer or supplier and enter the UK. Employees are allowed to enter the UK for the installation, dismantling, repair, maintenance or consultancy of machinery, other equipment, computer hardware or software. It is also possible to train employees in the UK under a purchase, supply or leasing contract with an UK company. Employees of the foreign company are allowed to enter the UK for all services regulated in these contracts.
Luxemburg / 14. Oktober 2021
Neue Steuerregelungen für Grenzgänger aus Belgien ab dem 1. Januar 2022
Luxemburg hat eine sehr grosse Anzahl von Grenzgängern. Allein aus Belgien pendeln täglich ca. 48'000 Personen zu ihrer Arbeit nach Luxemburg. Das Erwerbseinkommen von Grenzgängern, welche ihre steuerliche Ansässigkeit (Hauptwohnsitz) in Belgien haben und in Luxemburg arbeiten, ist insofern die Erwerbstätigkeit in Luxemburg erbracht wird, in Luxemburg vollumfänglich zu versteuern. Hat der Grenzgänger jedoch Arbeitstage ausserhalb von Luxemburg bspw. Homeoffice-Tage in Belgien oder Arbeitstage von einer Geschäftsreise in einem anderen Land, dann hat Belgien grundsätzlich das Besteuerungsrecht auf dem auf diese Arbeitstage (ausserhalb von Luxemburg) anfallenden Erwerbseinkommen.
Aufgrund dessen, dass diese Besteuerungsregel auch bereits bei einem Tag berücksichtigt werden müsste, hatte Luxemburg mit Belgien eine «24-Tages-Regelung» vereinbart. Diese «24-Tages-Regelung» galt vor dem Beginn der Pandemie und hatte zum Ziel, dass bei bis zu max. 24 «nicht-luxemburgischen»-Arbeitstagen in einem Kalenderjahr die Besteuerung für diese Tage nicht nach Belgien sich verschiebt, sondern in Luxemburg verbleibt.
Durch die Pandemie hat Luxemburg unter anderem mit Belgien eine Vereinbarung getroffen, dass diese Grenzgänger in Belgien in ihrem Homeoffice ohne Einschränkung arbeiten können, ohne dass sie in beiden Ländern Steuern bezahlen müssen. Diese Vereinbarung läuft per 31. Dezember 2021 aus.
Bereits im August 2021 haben Vertreter der Regierungen Belgiens und Luxemburgs eine Änderung vereinbart, die den Zeitraum von 24 Tagen auf 34 Tage per 1. Januar 2022 erhöht. Somit kann ein in Belgien wohnhafter Grenzgänger bis zu 34 Tage in einem Kalenderjahr ausserhalb Luxemburgs arbeiten, ohne dass eine Besteuerung in Belgien erfolgt. Die hier beschriebene Regelung gilt in gleicher Art und Weise für Grenzgänger, welche in Luxemburg wohnen und in Belgien arbeiten.
Luxembourg / October 14, 2021
New tax rules for cross-border commuters from Belgium as of January 1, 2022
Luxembourg has a very large number of cross-border commuters. From Belgium alone, around 48,000 people commute to work in Luxembourg on a daily basis. The income of cross-border commuters who have their tax domicile (main residence) in Belgium and work in Luxembourg is fully taxable in Luxembourg insofar as the employment is performed in Luxembourg. However, if the cross-border commuter has working days outside of Luxembourg, e.g. home office days in Belgium or working days from a business trip in another country, then Belgium has in principle the right of taxation on the earned income earned on these working days (outside of Luxembourg).
Since this taxation rule would also have to be taken into account for one day, Luxembourg had agreed on a "24-day rule" with Belgium. This "24-day rule" applied prior to the start of the pandemic and was intended to ensure that, in the case of up to 24 "non-Luxembourgian" working days in a calendar year, taxation for these days would not be shifted to Belgium but would remain in Luxembourg.
As a result of the pandemic, Luxembourg has reached an agreement with Belgium, among others, that these cross-border commuters can work in their home offices in Belgium without restriction and without having to pay taxes in both countries. This agreement expires on December 31, 2021.Already in August 2021, representatives of the governments of Belgium and Luxembourg agreed on an adjustment that will increase the period from 24 days to 34 days as of January 1, 2022. Thus, a crossborder worker residing in Belgium can work outside Luxembourg for up to 34 days in a calendar year without being taxed in Belgium. The regulation described here applies in the same way to cross-border commuters who live in Luxembourg and work in Belgium.
Japan / 14. Oktober 2021
Erleichterung für die Einreise nach Japan (COVID19) ab 1. Oktober 2021
Geschäftsreisende nach Japan unterstehen bereits aufgrund der Pandemie strengen Einreisevorschriften. Grundsätzlich können eigentlich Geschäftsreisende – bis auf einige Ausnahmen - und Touristen nach wie vor nicht nach Japan einreisen. Die Verkürzung der Selbstisolation dürfte nun die berufliche und geographische Mobilität der Geschäftsreisende in Japan ein bisschen erleichtern.
Ab 1. Oktober 2021 müssen alle geimpften Reisende nach Japan anstelle von 14 Tagen nur noch 10 Tage in die Quarantäne gehen, sofern ein negativer PCR-Test am zehnten Aufenthaltstag vorliegt. In Japan werden nach wie vor nur die Impfstoffe Pfizer, Moderna und AstraZeneca anerkannt. Im Bezug auf die Selbstisolation wird die folgende Unterscheidung vorgenommen:
Vollständig geimpfte Reisenden: Können selbst bestimmen, wo sie in Quarantäne gehen.
Nicht vollständige geimpfte Reisende:

Kommend aus einem «undesignated country / region»: Die japanische Regierung bestimmt, wo der Reisende für den gesamten Zeitraum in Quarantäne gehen muss.
Kommend aus einem «designated country / region»: Die japanische Regierung bestimmt, wo der Reisende für die ersten drei Tage in Quarantäne gehen muss, danach kann der Reisende das selbstbestimmen.
Neben japanischen Bürgern dürfen nur Einwohner mit gültiger Aufenthaltsbewilligung sowie weitere Reisende ohne festen Wohnsitz in Japan einreisen, wenn sie als Härtefall im Sinne einer «besonderen, aussergewöhnlichen Situation» erachtet werden.
Zuzüglich zum negativen PCR-Test, der innerhalb von 72 Stunden vor dem Abflug vorgenommen werden muss, muss ein Einreiseformular (https://arqs-qa.followup.mhlw.go.jp/#/) für die Einreise nach Japan ausgefüllt werden. Daneben müssen Reisende nach Japan für den Zeitraum von 14 Tage vor dem Abflug nach Japan, jeden Tag ihre Körpertemperatur messen. Die täglichen Messergebnisse müssen im Einreiseformulare entsprechend aufgeführt werden.
Japan / October 14, 2021
Simplification for entry into Japan (COVID19) from October 1, 2021.
Business travelers to Japan are already subject to strict entry regulations due to the pandemic. In principle, business travelers - with some exceptions - and tourists are still not allowed to enter Japan. The shortening of self-isolation should now make the professional and geographical mobility of business travelers in Japan a bit easier.
From October 1, 2021, all vaccinated travelers to Japan will only have to go into quarantine for 10 days instead of 14 days, provided there is a negative PCR test on the tenth day of stay. In Japan, only Pfizer, Moderna and AstraZeneca vaccines continue to be accepted. With regard to self-isolation, the following distinction is made:
Fully vaccinated travelers: Can choose where to go for quarantine.
Not fully vaccinated travelers:

Coming from an "undesignated country / region": the Japanese government determines where the traveler must be quarantined for the entire period.
Coming from a "designated country / region": The Japanese government determines where the traveler must go into quarantine for the first three days, after which the traveler can decide for himself.
In addition to Japanese citizens, only residents with valid residence permits and other travelers without permanent residency in Japan are allowed to enter if they are deemed a hardship case in the sense of a "special, exceptional situation."In addition to the negative PCR test, which must be performed within 72 hours prior to departure, an entry form (https://arqsqa.followup.mhlw.go.jp/#/) must be completed for entry into Japan. In addition, travelers to Japan must measure their body temperature every day for 14 days prior to departure. The daily measurement results must be listed on the entry form.
NEW
HEUTE INVESTIEREN, UM MORGEN ZU PROFITIEREN!
Gerade jetzt sind wir alle noch mehr gefordert, uns immer «up to date» zu halten. Mitarbeitereinsätze stehen durch die heutige Situation vor zusätzlichen Herausforderungen und häufig benötigt es dann weitaus mehr Unterstützung von Experten, um diese «Hürden» zu meistern bzw. um mögliche Risiken, soweit es geht, zu minimieren.
Am Jahresende kommt auch immer wieder die Budgetthematik auf. Wir bieten Ihnen hierzu an, dass Sie sich einen «Global Mobility Voucher 2022» bereits in diesem Jahr erwerben können, um diesen in 2020 oder 2021 einzusetzen. Die Höhe des Vouchers kann frei bestimmt und für folgendes eingesetzt werden:
Teilnahme an unseren Webinaren: 2022 werden wir wie gewohnt unsere Webinare zu verschiedenen Global Mobility Thematiken anbieten
Teilnahme an unseren Online-Seminaren: Auch in 2022 werden wir bewährtes beibehalten und Sie können das passende Seminar buchen
Beratungsstunden unserer Experten zu Ihren individuellen Themen
2021 waren wir vor Ort - d.h. Sie wünschen unsere Expertise bei Ihrem Event oder einen Workshop ganz individuell zu Ihren Themen in 2022+
The content of this article is intended to provide a general guide to the subject matter. Specialist advice should be sought about your specific circumstances.