Le 10 juillet dernier la Commission européenne a adopté une nouvelle décision d'adéquation1 concernant la circulation des données entre l'UE et les États-Unis.
Cette dernière étant en effet qualifiée de « sécurisée et fiable ». Sommes-nous alors confrontés à une simple mise à jour du Privacy shield (un pastiche de ce dernier) ou un réel nouvel accord ?
Adéquation des transferts vers les Etats-Unis
Comme le précise la CNIL, la Commission décide à travers cette décision, que « les modifications apportées par les États-Unis à leur législation nationale permettent désormais d'assurer un niveau de protection adéquat » des données à caractère personnel transférées de l'UE vers les organismes situés aux États-Unis respectant le Data privacy Framework. A l'instar du privacy shield, la liste de ces organismes respectant le Data privacy framework permet de connaître les organismes considérés comme sécurisés.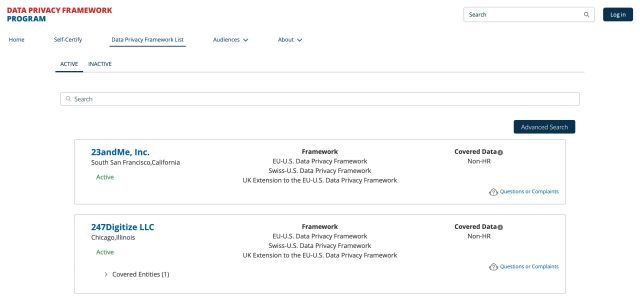 Cela implique donc que les transferts de données à caractère personnel depuis l'UE vers les organismes listés (voir ci-dessus) peuvent s'effectuer en toute liberté sans avoir recours aux garanties appropriées comme les clauses contractuelles types ou les mesures complémentaires recommandées par le Comité Européen de la protection des Données (CEPD)2.
Il est important de noter que cette décision de la commission s'est faite malgré un avis plutôt mitigé du CEPD qui faisait part de plusieurs préoccupations dans son avis3 du 28 février dernier. Ces préoccupations portaient essentiellement sur l'absence d'évolution concrète sur certains principes par rapport au Privacy Shield.
Les ajouts dans ce nouveau framework
La Commission européenne indique que le gouvernement américain a mis en place un nouveau « mécanisme de recours à deux niveaux », doté d'autorités indépendantes, pour traiter et résoudre les plaintes déposées par toute personne dont les données ont été transférées de l'EEE vers des entreprises aux États-Unis concernant la collecte et l'utilisation de ses données par les agences de renseignement américaines.
Les plaintes des personnes concernées sont d'abord examinées par le « Civil Liberties Protection Officer ». Cette personne est chargée de veiller à ce que les agences de renseignement américaines « respectent » la vie privée et les droits fondamentaux.
Les personnes concernées ont ensuite la possibilité de faire appel de la décision du « Civil Liberties Protection Officer » devant la nouvelle autorité (la « Data protection Review Court »). Cette autorité est composée de membres extérieurs au gouvernement américain et indépendants de ce dernier.
Une fin proche du Data privacy framework ?
L'association NYOB, fondée par Max Schrems, à l'origine de l'annulation du Privacy Shield en 2020 argue que le Data Privacy Framework est, pour majeure partie, une copie du feu Privacy Shield avec une absence réelle de changement de la législation américaine.
La problématique centrale étant notamment l'existence de la « FISA 702 » qui permet au Procureur général des États-Unis et au Directeur du renseignement national d'autoriser conjointement le ciblage des personnes (non américaines) situées à l'extérieur des États-Unis. Ce que la NYOB nomme une surveillance « en vrac ».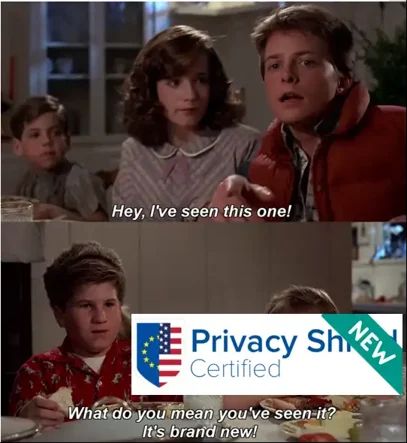 Dans ce cadre Max Schrems précise que l'association NYOB a déjà préparé « plusieurs options de recours  » et qu' « au cours des 23 dernières années, tous les accords entre l'UE et les États-Unis ont été déclarés invalides rétroactivement, rendant ainsi illégaux tous les transferts de données effectués dans le passé par les entreprises - il semble que nous venons d'ajouter deux années supplémentaires à ce ping-pong ».
Pour une parfaite sécurité juridique, il est donc vivement conseillé de prévoir des garanties ou de conserver les garanties déjà mises en place en cas de transferts vers les États-Unis tout en gardant un Sil ouvert sur l'évolution de la situation.
Footnotes
1.https://ec.europa.eu/commission/presscorner/detail/fr/ip_23_3721
2. Recommandations 01/2020 sur les mesures qui complètent les instruments de transfert destinés à garantir le respect du niveau de protection des données à caractère personnel de l'UE
3. Opinion 5/2023 on the European Commission Draft Implementing Decision on the adequate protection of personal data under the EU-US Data Privacy Framework
The content of this article is intended to provide a general guide to the subject matter. Specialist advice should be sought about your specific circumstances.