Un certain nombre de sociétés mères de groupes industriels et commerciaux se sont vues notifiées par l'ACPR récemment leur qualification de « compagnie holding mixte », découvrant par là même le maquis des statuts liés aux activités financières.
Contexte et périmètre du mémorandum
Le « Paquet CRD IV », composé de la directive n° 2013/36/UE du 26 juin 2013 (ci-après la directive CRD IV), ainsi que du règlement UE n° 575/2013 du 26 juin 2013 (ci-après CRR), a modifié les définitions des différentes entités exerçant une activité dans le secteur financier que ce soit directement ou par l'intermédiaire de sociétés contrôlées ou dans lesquelles elles détiennent une participation.
L'objet de cette alerte est de faire le point sur ces nouvelles définitions souvent peu connues et le champ d'application de ces statuts.
Définitions issues du Paquet CRD IV
Ces définitions se retrouvent à la fois dans le règlement CRR et dans le Code monétaire et financier (CMF).
Nous nous sommes concentrés sur les définitions telles que reprises au chapitre VII, titre Ier, chapitre VII du CMF (à savoir les compagnies financières holding, entreprises mères de sociétés de financement, compagnies financières holding mixtes, conglomérats financiers, compagnies holding mixtes et entreprises mères mixtes de société de financement).
Toutefois pour une parfaite compréhension, nous avons également ajouté certaines définitions issues du CRR.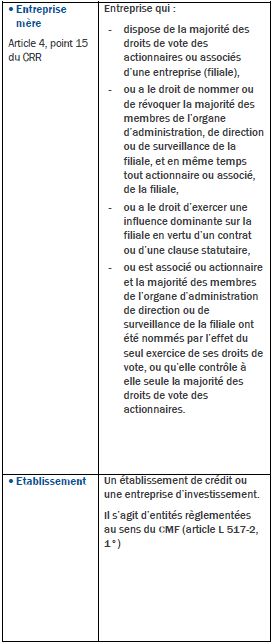 To continue reading this article, please click here
The content of this article is intended to provide a general guide to the subject matter. Specialist advice should be sought about your specific circumstances.