Dans la famille des «  Fintech », c'est-à-dire des startups de la finance, une catégorie se distingue par sa relative discrétion : les « RegTech ». Pourtant, ces dernières constituent une des branches les plus prometteuses du secteur.
Un récent rapport de l'Autorité Bancaire Européenne1 atteste d'ailleurs d'une réelle appétence des acteurs de la finance pour les services proposés par les RegTech. Concrétisation de ce phénomène, les récentes levées de fonds battent tous les records.
Explications :
Les Regtech : les nouvelles technologies mises au service de la compliance
Néologisme issu de la contraction des mots « Regulation » et « Technology », le terme « RegTech » désigne les nouvelles technologies qui sont utilisées pour faciliter l'application de la réglementation financière.
Autrement dit, il s'agit d'utiliser les technologies avancées, notamment l'intelligence artificielle, le Cloud, le Big Data ou encore la blockchain, pour optimiser la conformité des banques avec les nouvelles réglementations. Au terme du processus, l'objectif est d'automatiser la plupart des tâches relatives à la compliance.
Dans le détail, les principaux domaines d'activité des RegTech sont la lutte contre le blanchiment et le financement du terrorisme, la sécurité informatique, la prévention de la fraude, le reporting prudentiel et l'évaluation de la solvabilité.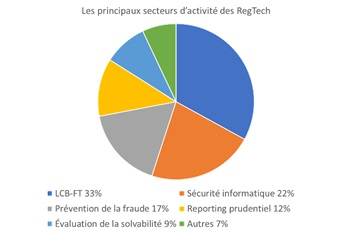 Ci-dessus un graphique qui indique la répartition des différents domaines d'activité des RegTech.
L'inflation réglementaire source d'opportunité pour les RegTech
Si les RegTech offrent de florissantes perspectives, c'est notamment en raison d'un phénomène particulièrement propice à leur activité : l'inflation réglementaire.
Depuis la crise de 2008, l'ensemble du secteur financier connaît une multiplication sans précédent des normes. Chaque année des dispositions de plus en plus nombreuses et de plus en plus contraignantes apparaissent. Illustration de ces changements incessants, depuis le 28 juin 2021, le nouveau  Règlement (UE) 2019/876 « CRR 2 », qui modifie les exigences en matière de fonds propres et d'exposition aux risques, est entré en application.
Cette prolifération des normes nécessite en principe un accroissement des effectifs dédiés aux missions de compliance. Or, le secteur financier étant devenu extrêmement concurrentiel, la réduction des coûts constitue désormais une préoccupation majeure.
Par conséquent, les acteurs institutionnels de la finance sont particulièrement attentifs aux solutions qui peuvent être proposées par les RegTech. La possibilité de disposer d'un logiciel prenant en compte instantanément les évolutions réglementaires tout en offrant une vélocité incomparable dans le traitement d'une multitude de données constitue une véritable opportunité. Concrètement, l'apport des RegTech s'avère particulièrement utile dans les tâches relatives à la :
Gestion de l'identité et de la connaissance du client (KYC) ;
Surveillance des opérations comptables ;
Veille et au reporting réglementaire ;
Protection des données ;
Gestion des actifs ;
Gestion de la conformité et des risques de fraude ;
Il s'agit d'opérations répétitives et chronophages qui peuvent être utilement automatisées grâce à la transformation des multiples normes réglementaires en simples lignes de code. En clair, le codage permet d'appliquer le droit !
Un environnement général propice pour les RegTech françaises
Si le Royaume-Uni fait figure de champion européen2, la France compte également de nombreuses RegTech, notamment Netheos qui propose un système de signature électronique sécurisée ou encore Fortia et DreamQuark qui développent des solutions basées sur l'exploitation des données par l'intelligence artificielle à destination des banques et des compagnies d'assurance. Cette dernière RegTech a d'ailleurs réussi à lever plus de 14 millions d'euros pour assurer son développement.
Cet essor des RegTech françaises s'explique en partie par l'environnement favorable mis en place par les autorités publiques hexagonales. Outre les aides octroyées par l'Etat dans le cadre de la pandémie de Covid-19 et notamment le plan de soutien aux entreprises technologiques, la France a pris de nombreuses mesures pour favoriser les startups.
Parmi les plus significatives :
Le renforcement du dispositif « France expérimentation » qui permet de solliciter un droit de dérogation à une loi ou à un règlement, dans le but de déployer un nouveau business model ;
Le lancement du « venture loan » avec Bpifrance permettant d'amplifier la levée de fonds ;
La possibilité de s'adosser facilement aux incubateurs ;
Ou encore, la révision du passage de seuil par les start-ups permis par la loi Pacte. Désormais les seuils de 11, 20 et 50 salariés sont considérés comme atteints par les entreprises uniquement lorsqu'elles les auront dépassés pendant une période de cinq années consécutives.
Toutes ces mesures concourent à faire de la France un territoire attractif pour le développement des Startups en général et pour les RegTech en particulier.
Footnotes
1 EBA Analysis of RegTech in the EU Financial Sector,  EBA/REP/2021/17, juin 2021.
2 Cf.  Panorama des RegTech européenne, KPMG.
The content of this article is intended to provide a general guide to the subject matter. Specialist advice should be sought about your specific circumstances.