Inciter les entreprises à embaucher sur des emplois longs et sanctionner l'abus du recours aux contrats courts : c'est l'objectif premier de la réforme de l'assurance chômage présentée par Edouard Philippe et Muriel Pénicaud le 18 juin dernier.
Pour le Premier Ministre, le constat est cuisant « Notre pays, qui aime la justice sociale mais qui n'en est pas à un paradoxe près, a laissé se développer le recours aux contrats courts jusqu'à l'excès. Au point qu'actuellement, 70% des embauches correspondent à des contrats de moins d'un mois et 85% de ces contrats sont signés chez le même employeur.1 »
Au programme,  pénalités financières des entreprises ayant un recours excessif aux contrats courts,  modification des règles d'indemnisation et renforcement  de l'accompagnement des demandeurs d'emploi.
1. Ouverture de l'assurance chômage aux salariés démissionnaires et aux travailleurs indépendants :
Outre les cas de « démission légitime » déjà applicables, les salariés ayant au moins 5 ans d'ancienneté dans une entreprise pourront bénéficier de l'assurance chômage en cas de démission pour réaliser un projet professionnel.
Le niveau d'indemnisation sera identique à celui des autres demandeurs d'emplois.
Ce droit sera renouvelé tous les 5 ans et sera subordonné à l'existence d'un projet professionnel réel et sérieux. Les salariés pourront bénéficier d'un accompagnement gratuit par un Conseil en Evolution Professionnelle (CEP) pour élaborer leur projet professionnel.
Les travailleurs indépendants en cessation d'activité pourront également bénéficier d'une indemnisation forfaitaire de 800 € par mois pendant 6 mois sous réserve de justifier d'un revenu professionnel minimum de 10 000 € par an sur les 2 dernières années. Il n'est prévu aucune cotisation supplémentaire pour financer ce dispositif.
2. Sanctions financières visant à lutter contre le recours abusif aux contrats courts et favoriser la pérennité des contrats de travail « longs »
- Un système de bonus-malus pour les entreprises identifiées comme étant les moins bons élèves
Afin de lutter contre l'enchaînement des CDD/missions d'intérim et favoriser la pérennité des contrats de travail « longs », un système de bonus-malus sera mis en place pour les entreprises de plus de 11 salariés relevant des 7 secteurs2 identifiés comme étant les moins bons élèves.
Comment fonctionnera le système de bonus-malus ?
Les cotisations varieront entre 3 et 5 % de la masse salariale, en fonction de la pratique de l'entreprise : plus le nombre de salariés qui s'inscrivent à Pôle emploi après avoir travaillé pour une entreprise sera important par rapport à son effectif, plus une entreprise paiera de cotisations patronales à l'assurance chômage.
Attention, tous les types de fin de contrat seront pris en compte : fin de CDD, fin de contrat d'intérim mais aussi ruptures conventionnelles et licenciements !
- Une contribution forfaitaire sur les CDD d'usage
Pour inciter les entreprises à proposer des contrats d'une semaine ou d'un mois plutôt que de quelques heures chaque jour, les CDD d'usage se verront appliquer une taxe forfaitaire de 10 € par contrat.
Les employeurs de salariés intermittents ne seront pas concernés par cette mesure. Toutefois, ils conserveront la cotisation patronale supplémentaire de 0,5 % qui leur est déjà applicable3.
3. Renforcement de l'accompagnement des demandeurs d'emploi
De nombreuses mesures sont prévues pour renforcer l'accompagnement des demandeurs d'emploi et favoriser un retour rapide à l'emploi :
- Bénéfice d'une formation sur mesure pour les demandeurs d'emplois ayant reçu une proposition d'emploi stable impliquant une mise à niveau préalable de leurs compétences ;
- Demi-journées d'accompagnement intensif avec pôle emploi dans les 4 premières semaines suivant l'inscription à pôle emploi, pour les demandeurs d'emplois qui le souhaitent ;
- Accompagnement dédié, par des opérateurs privés, des demandeurs d'emploi en situation de cumul ou alternance prolongés entre emploi et chômage ;
- Bénéfice de nouvelles aides concrètes pour répondre à une offre d'emploi telles que l'aide à la garde d'enfant, aide à la mobilité,...).
4. Nouvelles règles d'ouverture de droit et d'indemnisation pour favoriser un retour à l'emploi plus rapide
Le Gouvernement prévoit plusieurs mesures visant à reconstruire des paramètres d'indemnisation simples, justes et lisibles :
- Révision du mode de calcul des indemnités afin qu'il ne soit plus possible d'avoir une indemnisation chômage supérieure à la moyenne des revenus du travail ;
- Allongement de la durée minimale d'affiliation pour ouvrir des droits : 6 mois d'activité sur les 24 derniers mois en lieu et place de la règle des 4 mois activité sur les 28 derniers mois actuellement en vigueur ;
- Dégressivité des allocations les plus élevées : les demandeurs d'emploi de moins de 57 ans dont le revenu du travail est supérieur à 4 500 € brut par mois se verront appliquer une dégressivité de 30 % à partir du 7ème mois d'indemnisation avec un plancher mensuel de 2 261 € nets.
Calendrier prévisionnel de mise en Suvre des différentes mesures annoncées par le Gouvernement4 :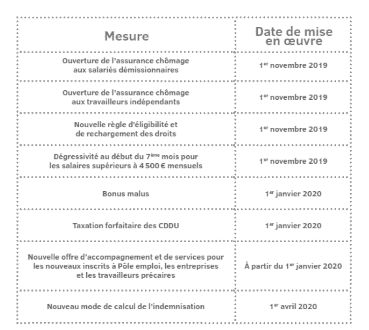 Footnote
1 Extrait du discours du Premier Ministre lors de la conférence de presse sur la présentation de la réforme de l'assurance chômage
2 Les 7 secteurs identifiés sont : 1-fabrication de denrées alimentaires, de boissons et de produits à base de tabac ; 2- autres activités spécialisées, scientifiques et techniques ;3- hébergement et restauration ; 4-production et distribution d'eau-assainissement, gestion des déchets et dé-pollution ; 5-transports et entreposage ; 6-fabrication de produits en caoutchouc et en plastique, et d'autres produits non métalliques ; 7-travail du bois, industrie du papier et imprimerie
3 Cotisation patronale supplémentaire de 0,5 %  applicable aux employeurs de salariés intermittents prévue par la convention de mars 2017
4 Dossier de presse de présentation du 18 juin 2019
The content of this article is intended to provide a general guide to the subject matter. Specialist advice should be sought about your specific circumstances.