Le 22 juillet dernier, l'Autorité de la concurrence, qui enquêtait depuis près de dix ans sur un cartel de plusieurs marques et fabricants de lunettes, a sanctionné quatre sociétés du secteur : Luxottica, LVMH, Chanel et Logo.
L'Autorité reproche à ces quatre sociétés d'avoir mis en Suvre deux  pratiques anticoncurrentielles, qui présentent « un caractère certain de gravité » :
La limitation de la liberté tarifaire de leurs distributeurs ;
L'interdiction faite aux distributeurs de vendre les produits en ligne.
Ces pratiques, qualifiables d'ententes verticales, sont contraires aux dispositions des articles L420-1 du Code de commerce et 101 §1 du Traité sur le fonctionnement de l'Union européenne.
Pour mémoire, une entente anticoncurrentielle est un accord, une pratique concertée ou une décision d'association d'entreprises qui a pour objet ou pour effet d'entraver le fonctionnement normal du marché. Elle peut être soit verticale (entre un fournisseur et ses distributeurs -comme dans l'affaire qui nous concerne), soit horizontale (entre concurrents situés au même niveau de la chaîne économique).
Les ententes verticales sur les prix de vente au détail
L'Autorité, s'appuyant sur un « faisceau d'indices graves et concordants », reproche au géant du secteur Luxottica d'avoir, entre 2005 et 2014 :
incité ses distributeurs à maintenir leurs prix de vente à un certain niveau, en leur diffusant des prix prétendument « conseillés » et,
conclu avec eux des contrats de distribution sélective, leur interdisant de réaliser certaines pratiques tarifaires lors de la vente au détail, comme des remises ou des promotions.
Il est également reproché au fabricant de lunettes d'avoir mis en Suvre, avec la collaboration de ses distributeurs, un système de surveillance des prix de vente au détail, et d'avoir sanctionné les moins coopératifs d'entre eux en retardant leurs livraisons ou en leur retirant l'agrément nécessaire à la distribution de certaines marques.
Les sociétés Logo et LVMH, qui se sont préalablement engagées par procès-verbaux1 à ne pas contester les griefs leur ayant été notifiés, se sont vues elles aussi reprocher les mêmes faits.
L'Autorité retient, à raison de leur nature, mais également de leurs répercussions sur les consommateurs finals, le caractère certain de gravité de ces pratiques anticoncurrentielles par leur objet.
En effet, ces restrictions sur la fixation des prix de vente au détail, imposées par les lunetiers à leurs distributeurs, ont pour conséquence de maintenir les consommateurs finals « pour partie captifs et vulnérables ».
Les ententes verticales sur l'interdiction de la vente en ligne
Les sociétés Luxottica, Chanel et LVMH se sont chacune vues reprocher d'avoir interdit à leurs détaillants agréés de vendre en ligne leurs produits (lunettes solaires ou des montures de lunettes de vue).
Malgré la gravité d'une telle pratique, l'Autorité de la concurrence se montre assez indulgente quant à ce grief. En effet, les sanctions infligées sur ce fondement sont relativement faibles.
L'Autorité a justifié sa position en indiquant que même si cette pratique a pour conséquence, du fait de la fermeture d'une voie de commercialisation au détriment des consommateurs et des distributeurs, de limiter la  concurrence, sa gravité « naturelle » doit être atténuée en raison de l'incertitude quant à sa licéité au moment des faits.
En effet, l'impossibilité d'interdire les ventes en ligne n'a été affirmée fermement qu'en 2011 par un célèbre arrêt Pierre Fabre rendu par la Cour de Justice2.
De plus, selon l'Autorité de la concurrence, le dommage causé à l'économie par cette restriction est très limité, en raison du faible développement des ventes sur Internet dans le secteur de la lunetterie, surtout pour les montures de lunettes de vue.
Synthèse des griefs reprochés aux entreprises du secteur de la lunetterie

Les sanctions prononcées par l'ADLC
Considération faite des pratiques anticoncurrentielles relevées, l'Autorité de la concurrence a prononcé diverses sanctions.
Alors que Chanel et LVMH écopent d'amendes respectives de 130 000 et 500 000 euros, Luxottica, premier fournisseur mondial de lunettes, est, quant à lui, sanctionné de manière beaucoup plus élevée. La société s'est, en effet, vue infliger une sanction globale de plus de 125 millions d'euros.
La société Logo, placée en 2016 en liquidation judiciaire, n'est pas sanctionnée.
Tableau récapitulatif des sanctions prononcées par l'ADLC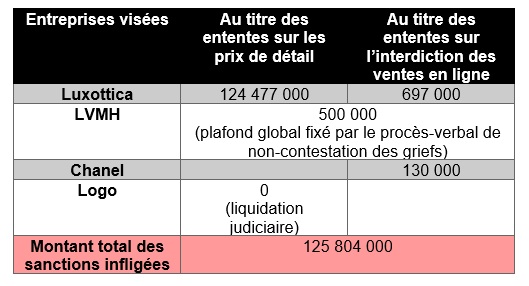 Fort d'une expérience dans le domaine  du droit de la concurrence et de la régulation économique, le cabinet Haas Avocats dispose d'un département dédié à l'analyse des pratiques anticoncurrentielles et restrictives de concurrence mises en Suvre dans le domaine du digital (analyse d'impact, actions de remédiation, gestion des risques, assistance devant l'Autorité de la concurrence et la DGCCRF et représentation devant les juridictions judiciaires).
Le Cabinet est naturellement à votre entière écoute pour toutes problématiques que vous pourriez rencontrer.
Footnotes
1 Ancien article L 462-2 III du code de commerce
2 CJUE, C-439/09, 13 octobre 2011 :  https://eur-lex.europa.eu/legal-content/FR/TXT/PDF/?uri=CELEX:62009CJ0439&from=FR .
The content of this article is intended to provide a general guide to the subject matter. Specialist advice should be sought about your specific circumstances.