Cour d'appel de Paris, 9 avril 2019, RG 17-10752
Si le modèle ici revendiqué – un matelas de plage avec dossier – est nouveau, la Cour d'appel de Paris considère qu'il est dépourvu de caractère individuel (pour autant, l'annulation du modèle n'est pas prononcée). Les juges retiennent que les caractéristiques de ce matelas de plage répondent à des considérations techniques ou fonctionnelles comme plier le matelas en trois pour en faciliter le transport, assurer la rigidité du dossier et son appui sur le sol ainsi que le confort de l'utilisateur. La demande en concurrence déloyale, formée par le titulaire du dessin ou modèle, présentée pour la première fois en cause d'appel, est nouvelle et elle est donc rejetée. En toute hypothèse, la Cour rappelle que l'imitation, même servile, n'est pas, en soi, constitutive d'actes de concurrence déloyale.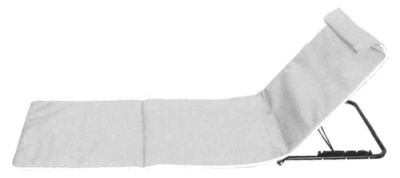 On retiendra, non sans regret, que l'arrêt ne donne aucune définition de l'utilisateur averti auquel il convenait pourtant de se référer pour apprécier le caractère individuel du modèle revendiqué. Aucune appréciation du degré de liberté du créateur n'est davantage effectuée. Le défaut de caractère individuel découle des seules considérations techniques mentionnées, sans que la Cour ne se prononce sur leur caractère exclusivement fonctionnel. Enfin, s'il est indiqué que le modèle ne produit pas sur l'utilisateur averti une impression globale différente de celle qui est dégagée par le modèle de matelas dit 'Frebot', déposé en 1982, on n'en sait malheureusement pas plus sur les ressemblances précises retenues par la Cour qui seraient de nature à détruire le caractère individuel du modèle de matelas second.
On se reportera, non sans intérêt (et peut-être à titre de consolation), à un arrêt de la même Cour, rendu seulement quelques semaines plus tôt, le 26 février dernier (PIBD N°1114 – III – 201, modèle UE de fer à boucler Babyliss). Plus orthodoxe à nos yeux, l'arrêt examine attentivement et séparément, les critères de nouveauté, caractère individuel (avec une définition de l'utilisateur averti) et de caractère exclusivement fonctionnel. Sur ce dernier critère, la Cour se réfère à l'arrêt Doceram rendu par la Cour de Justice de l'UE le 8 mars 2018 et en livre une analyse qu'elle ne reprend pas dans l'arrêt ici commenté (possibilité pour le Juge, pour apprécier la validité du modèle, de tenir compte de la multiplicité des formes existantes dans l'art antérieur, à titre d'indice certes non suffisant).
The content of this article is intended to provide a general guide to the subject matter. Specialist advice should be sought about your specific circumstances.