The Markets in Crypto-Assets  ("MiCA") regulation has finally become a reality following its approval by the European Council. Here are the answers to the most frequently asked questions about MiCA and the Virtual Financial Assets ("VFA") framework, the current crypto-assets regulatory framework in Malta. 
What is MiCA?
MiCA stands for Markets in Crypto Assets regulation, which was introduced in 2020 by the European Commission as part of the digital finance package. Since then, everyone who is working or in some way or another related or merely interested in crypto-assets as well as related to them services have been looking forward to seeing the final result of the regulation. Two years down the line, following discussions, doubts and disagreements, MiCA's text was approved by the European Council. And it comes at a very important time. With the recent FTX drama, we are now appreciating even further the importance and need of regulation in this space.
Why is MiCA important?
Once MiCA enters into force it will establish a harmonized crypto regulatory framework at the European Union (the "EU") level and will become the first pan-national instrument worldwide that will lay down a regulatory framework for crypto assets issuers and crypto assets service providers as well as certain types of crypto assets in general.
Furthermore, MiCA will apply directly across the EU replacing the existing domestic laws and harmonizing all national legislations in the area of crypto assets and related to them activities.
What does MiCA mean for crypto-assets industry?
Most EU Member States will need to perform a significant work by (1) either replacing their current frameworks that somewhat regulate crypto-assets as well as related to them activities or (2) to start from scratch their journey in regulating crypto-assets.
What is the current crypto-assets regulatory framework in Malta?
Malta, on the other hand, was one of the first countries to establish a crypto regulatory framework back in 2018, namely, Virtual Financial Assets ("VFA") framework, which is based on the EU Markets in Financial Instruments Directive ("MiFID") and regulates initial VFA offerings as well as outlines licence requirement for VFA service providers. MiCA, in its turn, has also been based on the latter Directive meaning that Maltese VFA framework and EU MiCA framework are considerably similar.
What does VFA stand for?
VFA or a virtual financial asset is defined as any form of digital medium recordation that is used as a digital medium of exchange, unit of account, or store of value and that is not electronic money, a financial instrument or a virtual token.
What type of crypto related services are under the scope?
Being based on MiFID, crypto-asset service providers framework under MiCA and VFA service providers framework under Maltese VFA Act are almost identical. Indeed, both frameworks outline similar crypto related services which trigger a licensing requirement, as follows: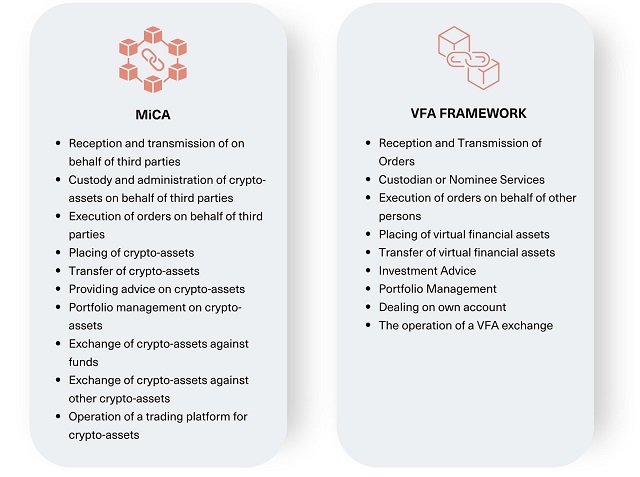 Furthermore, in the same way as MiCA, the VFA Act encompasses similar general rules and obligations required to be satisfied by the service providers.
What will happen to crypto-assets service providers already compliant with the VFA Maltese framework?
When an EU Member State has already established a bespoke licensing regime for crypto-assets service providers ("CASP"s), MiCA mentions that regulators will apply a simplified authorization process. It will help entities transition from a national licence to a MiCA CASP licence that is valid across the entire EU.
In Malta, the MFSA already announced that they have started identifying and analysing the differences between MiCA and the VFA framework to align the latter as much as possible to the new EU-wide framework transforming Malta into the first MiCA compliant EU Member State. Therefore, the existing Malta licenced VFA service providers would be able to transition seamlessly under the MiCA framework as soon as it comes into force, giving the operators a competitive advantage over other entities established in other EEA jurisdictions.
When is MiCA expected to come into force?
The new regulation has been expected to be ratified and published in the Official Journal in Q1 2023 (entry into force 20 days later) with most regulations due to apply 12-18 months from its entry into force. However, due to the technical issue in translating the text into 24 official languages of the EU, the final vote on MiCA regulation has been postponed and is currently scheduled to take place in April 2023.
The content of this article is intended to provide a general guide to the subject matter. Specialist advice should be sought about your specific circumstances.