My company's remuneration packages seem good... but how do they compare to those of other companies?
How representative is the information I hear about my competitors' fringe benefit packages?
Where can I find insights and data that can help me make strategic decisions about rewards?
The first edition of our remuneration survey dedicated to Luxembourg's commercial and industrial (C&I) organisations answers these questions and more. After polling organisations, speaking to HR professionals, and sorting through almost 5,000 data points, my team and I compiled the survey: specifically, we wanted to examine and compare how companies hire, keep, train, pay, and reward their employees.
Please read on for a summary of some of our findings.
Quality of life: inside and outside the office
For organisations, cultivating a culture of healthiness and happiness means thinking outside, as much as inside, the office. Most participants (67%) stated that they already have a "quality-of-life policy" in place.
At a glance, the most popular initiatives for employee health and happiness in the workplace are as follows: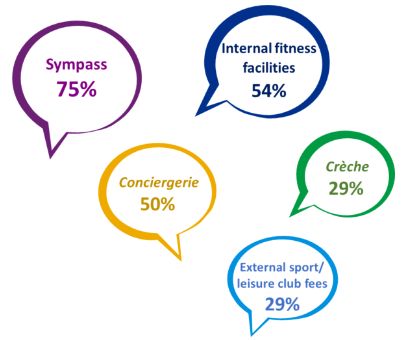 We also found that remuneration packages are about more than financial compensation. Luxembourg's commercial and industrial companies' top four fringe benefits are:
As you can see, company cars are the stars of the fringe benefit world. This area in particular will be one to watch in the coming year, as Luxembourg's recent tax reform brings new implications. Since 1 January 2017, drivers of company cars with low CO2 emission levels have benefited from lower taxes. On the company's side, the new tax reform also affects the cost of owning the car. Of the 65% of respondents who impose constraints on (or guidelines for) their company cars, 26% mentioned a maximum CO2 level as a constraint.
Incentives like this one will hopefully mean a greener future. Along these lines, it would probably be safe to bet on the rise of bicycles and electric vehicles in company transport programmes in the coming years.
Additionally, 94% of our respondents offer their employees parking slots. Most C&I organisations being located outside town centres, they provide parking slots to their employees without any contributions.
Digital labour and the future of the work environment
The commerce and industry sector is undergoing the same digital transformation that has changed user experiences across virtually every industry. We have observed HR practices incorporating digital tools and services that, importantly, enhance not only the firm's attractiveness but also its business strategies.
Recruiters in particular are diversifying their recruitment means and methods, though not terribly swiftly. Even though the majority of our respondents still use traditional media (press, job boards, etc.) for recruitment, digital tactics have also become commonplace with 50% of companies having recruited via social media platforms (Xing, Viadeo, LinkedIn, Facebook, Twitter, etc.) Almost nine in ten participants (86%) are looking to further digitalise their recruitment practices, with plans to use social media platforms more.
HR information systems (HRISs) have also become day-to-day interfaces for HR departments, and also for employees to keep track of their personal information, manage their performance cycles, access their compensation and benefits data, and more. Our survey revealed that roughly half (53%) of commercial and industrial companies have an HRIS, with a further 14% planning to implement one within a year.
Automation is also on the rise, with robotic process automation (RPA) making a splash in particular. RPA is an application of technology that enables human activities that are manual, repetitive, and rule-based to be automated. Companies using RPA free up their employees to focus on more skilled tasks like analysing, strategic thinking, etc. In this way they are industrialising their production models and digitally transforming their business processes.
Don't miss out!
Read more about the survey here.
The content of this article is intended to provide a general guide to the subject matter. Specialist advice should be sought about your specific circumstances.