When the risk appetite of investors is tapered due to changing market sentiment, they choose 'flight to quality' investments such as safe-haven-assets, such as Gold, to protect their investment portfolio against further losses. A move that has long been as visible as during the month of May, 2019.
The Main Markets
Stock markets ended the month discernibly lower across the globe with their worst monthly return since December 2018. Average global stock returns at end of May:
US Tech -9%
Japan -8%
EM -8%
US S&P 500 -6%
Europe -6%
China -6%
The US-China Trade War is continuing and additionally we have been taken by surprise by the announcement of the US planning to impose tariffs on Mexico in the coming weeks resulting in yet a further downturn in the market. May also marked a price fall in commodities, led by oil which dropped 8% on a week and a cumulative of 15% over the month of May. Since the financial crisis, the 3m/10y yield curve is the most negative at -20bps. This is contrary to the 2m/10y curve which, despite falling yields, in fact steepened last week with the news that it is highly likely that the Fed will indeed impose further rate cuts (near to 100% probability) despite their dovish stance a few months ago. The market is now signaling 2-3 rate cuts to come this year with a probability of 50% by July and 80% by September, as the chart below shows.
Fed Rate cut Probabilities
Source: Bloomberg
The Effect on the Gold Market
The week ending May showed a marked rise in the gold price which was up 1,6% and this was mainly reasoned by Friday's market sell-off. The flight to quality is clearly evident with gold shining in its role as a safe-haven-asset during the week. End of May gold stood 1,71% higher, denoting the strongest month since January this year, whilst on the year gold stands 1,9% higher. With that, gold is outpacing emerging market stock performance in USD terms. Gold's role as a safe haven during periods of marked sell-offs and/or an increase in systematic risk is apparent. Gold remained fairly flat over the month where there were only small movements in the market, however when the US stock market was down by more than 1% in a day, which occurred 4 times in May, gold rose on average by 90bps on each of those days.
End of last week, the gold price surged above USD 1.300 and is continuing to do so this week. Traders and analysts are now focusing on the USD 1.365 level which has been a multi-year resistance line.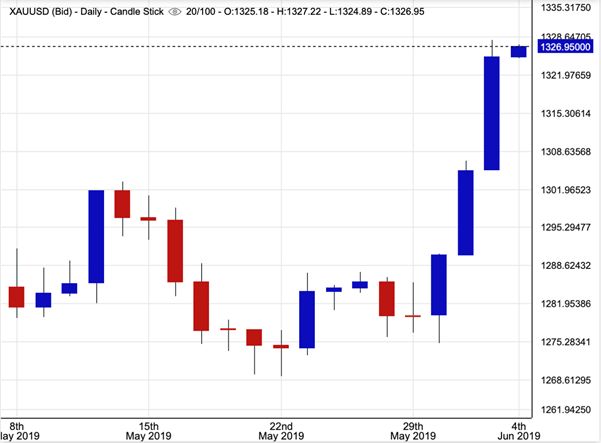 Source: Netdania
References: World Gold Council, Bloomberg, Netdania
Why LIEMETA ME Ltd?
LIEMETA ME Ltd, Nicosia, Cyprus, provides physical storage of precious metals at its prime location in Liechtenstein as well as trade services of precious metals, mainly gold, silver, platinum and palladium.
Your precious metals are safely and securely stored "segregated and allocated" and we are one of the few physical storage houses for precious metals that provide full-cover insurance, including embezzlement.
Stored assets are fully legally owned by the client, client assets are of course not on our companies' balance sheets.
LIEMETA is a privately owned, independent and non-bank company, meaning that its services do not fall within the scope of CRS or AEOI.
LIEMETA provides 100% discretion, 24/7 access to clients' stored assets at its sophisticated unit and high-security building.
LIEMETA is proud to be chosen by high net-worth individuals as their trustworthy custodian, in Liechtenstein.
The content of this article is intended to provide a general guide to the subject matter. Specialist advice should be sought about your specific circumstances.