In October, Liberia will hold its fifth set of general elections since the end of the second civil war. In anticipation of this contest, Joseph Boakai of the Unity Party (UP) has picked Nimba County Senator Jeremiah Koung as his running mate against President George Weah. Boakai is looking to profit from a fallout between Weah and former warlord Prince Johnson, who now backs Koung, and has been a kingmaker in the last two presidential elections. However, in partnering with Koung, Boakai will be breaking a deal with old allies who joined him to form a coalition in 2021 expecting to be on the ticket. Weah remains well-placed to benefit from the resulting opposition split, but there is still time for Boakai to find reconciliation.
Significance – Liberia's political kaleidoscope
Prince Johnson was a prominent figure in the First Liberian Civil War between 1989 and 1997, fled the country for a time but was able to return and sit as a senator for Nimba County since 2005. His endorsement has been decisive in past presidential elections because of the high constitutional bar for presidential election victory and his influence in Nimba, which is the county with the second largest number of voters.
The winning candidate in a presidential election must gain more than 50% of votes and the often crowded race usually ends in a runoff after no clear winner in the first round. In fact, President Weah came to power in 2017 by defeating Boakai in a runoff following Johnson's endorsement. However, their alliance was not stable. The president and the former warlord soon fell out after the US hit Johnson with sanctions for alleged corruption1 – with Weah offering him little support. Johnson's Movement for Democracy and Reconstruction (MDR) – to which Senator Koung also belongs – then ended its alliance with Weah's Coalition for Democratic Change (CDC).
Liberia's opposition parties have also struggled to coalesce. Boakai had been building an opposition coalition named Collaborating Political Parties (CPP) alongside Grand Bassa Senator Nyonblee Karnga-Lawrence of the Liberty Party and two other parties. Their arrangement broke up last year over the nomination of a presidential candidate. Karnga-Lawrence remained in Boakai's camp on the understanding that she would become his running mate. Instead, Boakai will exploit the rift between Weah and Johnson, who cannot himself run due to the US sanctions.
Outlook – Realignment
A divided opposition raises Weah's chances for re-election in October, but Boakai still has six months to pacify his old allies who now feel relegated to an inferior role by the UP leader. Looking forward, Boakai's relationship with three politicians in particular will shape his electoral viability: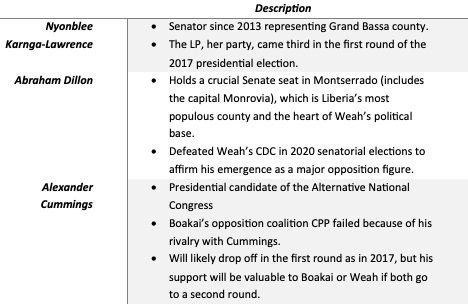 Footnote
1. https://home.treasury.gov/news/press-releases/jy0523
The content of this article is intended to provide a general guide to the subject matter. Specialist advice should be sought about your specific circumstances.