Kenya is rewriting its 2005 Privatisation Act. Whereas red tape, litigation and inadequate political capital derailed the privatisation scheme developed by former president Mwai Kibaki's 2002-13 administration, President William Ruto hopes to reboot the scheme with new legislation this year and implementation in 2024.
Significance: second or third time is the charm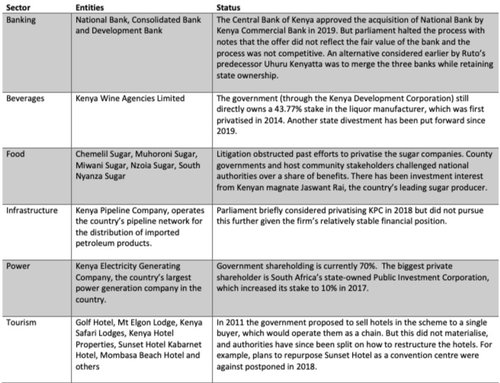 Kibaki ran a fragile unity government where control of parliament was shared equally with his rival Raila Odinga. Notwithstanding the privatisation of certain key entities like Safaricom, the then-president's privatisation programme was largely abandoned. Neither was it prioritised by his successor, Uhuru Kenyatta in the recently concluded administration (2013-2022). Government actors were consequently split over the need and mode for restructuring the targeted entities. Among them are the entities in the box adjacent.:
Set against this backdrop is the draft privatisation legislation published by the National Treasury last month. The bill proposes the following changes compared to the 2005 Privatisation Act.
Creating a Privatisation Authority to replace the existing Privatisation Commission.
The treasury cabinet secretary is no longer required to appoint certain board members through a competitive process subject to parliamentary approval. The treasury secretary can now unilaterally appoint members that the secretary deems to be qualified.
Cabinet and parliament are no longer required to review a proposed privatisation. A proposal is approved when the Privatisation Authority recommends it and the treasury secretary gives assent.
Create a Review Board to replace the Appeals Tribunal, which was responsible for hearing appeals to the Commission's decisions.
Outlook. Policy timeline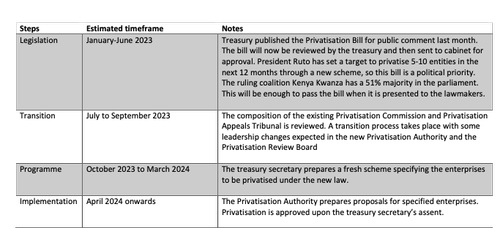 Having issued invitations for public comment last month, the government hopes to pass the legislation in the coming months and begin institutional reforms this year, before implementation commences in early 2024.
The content of this article is intended to provide a general guide to the subject matter. Specialist advice should be sought about your specific circumstances.