In a recent landmark case, the N logo used on shoes (see images below) by New Balance Athletics, Inc. (New Balance) was, for the first time, recognized as a famous product decoration in China.
Ruling of Beijing High Court
In its verdict (2018) Jing Xing Zhong No. 3847, issued on July 11, 2019, the Beijing High Court found that the evidence filed by New Balance proved that since 2001, it had used the letter N on sports shoes as a product decoration in China and obtained a certain reputation. The court ruled that the legal interests generated from the famous product decoration should be protected in accordance with Article 31 of the 2001 China Trademark Law (Article 32 of 2013 China Trademark Law), which provides for protection for product decoration. The court further ruled that the registration and use of the disputed mark No. 3954764 on shoes, similar to New Balance's famous product decoration, is against the law, and should be declared invalid.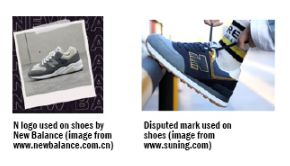 This ruling concluded a 15-year trademark dispute between New Balance and New Barlun (China) Co., Ltd. (New Barlun). The original filing took place in 2004 and was then opposed in 2007. Further review of opposition occurred in 2010, and the trademark was finally approved for registration in 2011. Then New Balance filed an invalidation action against it in 2014. The decision was appealed to the Beijing IP Court for first instance trial and finally to the Beijing High Court for second instance trial.
Prior Right of Famous Product Decoration
According to the verdict, three conditions should be fulfilled in order to determine that a trademark conflicts with a prior product decoration with certain reputation, protected as a prior right in accordance with Article 31 of 2001 China Trademark Law (Article 32 of 2013 China Trademark Law):
1. The product has obtained certain reputation prior to the filing of the later trademark application;
2. The product decoration is distinctive, to function as a source identifier of the goods; and
3. The product decoration is identical with or similar to the later trademark.
Copyright Considerations
The court considered New Balance's NB logo as artwork with originality and artistic aesthetics, which should be protected by copyright.
New Balance applied to register its NB logo as a trademark in the United States in the 1970s, and in China on May 7, 2003, where it received protection on July 7, 2005, for Registration No. 3548487. Trademark registration can be taken as preliminary proof of copyright ownership, sufficient to entitle New Balance to claim for copyright protection as an interested party.
However, the court dismissed New Balance's claim of copyright protection for its N logo, as such claim was never raised in prior proceedings, and denied its claim for the NB logo, as it is not considered similar in substance to the disputed mark.
Although every effort has been made to verify the accuracy of items in the INTA Bulletin, readers are urged to check independently on matters of specific concern or interest. Law & Practice updates are published without comment from INTA except where it has taken an official position.
The content of this article is intended to provide a general guide to the subject matter. Specialist advice should be sought about your specific circumstances.