2022년 1월 12일 국제 권위 있는 법률 평가사 체임버스(Chambers and Partners)가 발표한'2022 중화권 법률 가이드'(2022 Greater China Region Guide Rankings)에서 캉신이 지적재산권 분야 비소송 부문 순위에 이름을 올렸다!
캉신 소장 위강 씨은'업계 현달'이라는 칭호를 얻었고, 우츙씨 는 선두 변호사로 선정되었다!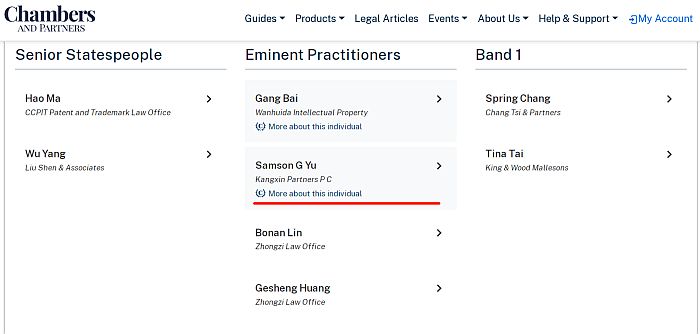 위강 씨는'업계 현명' 이라는 칭호를 얻었다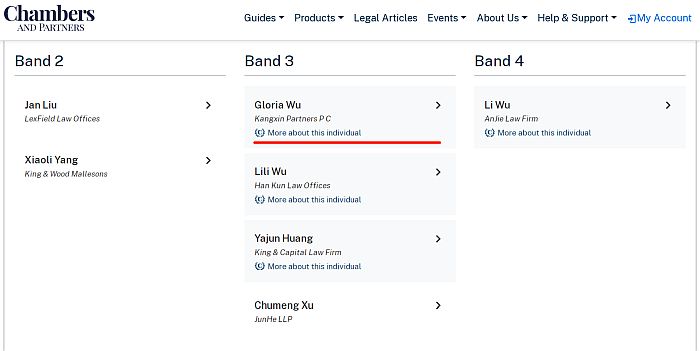 우츙씨가 선두 변호사로 뽑혔다
첸백스는 국제적으로 유명한 법률 서비스 등급 평가 기구로 1969년부터 세계에 서로 다른 국가의 변호사와 변호사 랭킹을 발표했다. 그는 엄격한 조사 연구와 평가 체계를 통해 각 법률 분야의 전 세계 유명 로펌과 최고급 변호사를 선정하여 전 세계 고객들이 고급 법률 서비스를 찾는 가장 신뢰할 만한 권위 있는 참고 중 하나가 되었다.업계의 벤치마크로 널리 인식되다.
The content of this article is intended to provide a general guide to the subject matter. Specialist advice should be sought about your specific circumstances.