Low Wage Demographics Are Driving Chinese FDI Along The Belt & Road
One of the less understood aspects of China's Belt & Road Initiative is China's need to secure cheap labor resources to boost both its domestic economy as well as provide Chinese manufactured, overseas produced export products.
The reason for this is that manufacturing in China has, over the years, become progressively more expensive. This graph, courtesy of Trading Economics illustrates this over the course of the past ten years: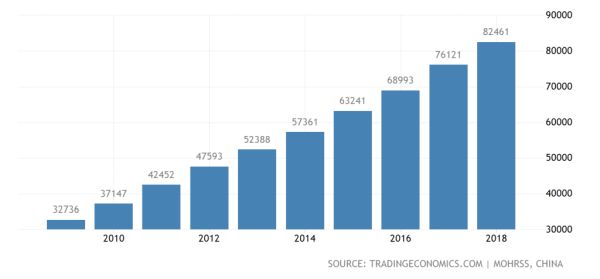 Pic 1
While much is made of China's project financing and infrastructure build along many of the nations it has signed Belt & Road MoU with, a lesser known aspect is the Chinese need to use emerging economies to provide cheaper labor resources than China itself can now provide. To this end, China has quietly been establishing Chinese owned, or Chinese joint-ventured Industrial Parks and Economic Zones across the Belt & Road Initiative. I outlined these in the article China's Overseas Free Trade Zones & Industrial Parks Many of these Parks have been established for strategic reasons, being sited close to necessary infrastructure such as road and rail networks, ports, airports and nearby border regions. These include Parks in Europe, Russia and the Middle East where wages are close or higher than those attainable in China. However, a large number of these Parks are also in the emerging economies of South East Asia and Africa, where wage dynamics are considerably lower than in China. It is noticeable that the majority of the Parks that China has established are also within these two regions.
We can examine the wage differentials between regions as follows:

Of note here is India, which also has a wage dynamic competitive to China, yet is being underutilized. In fact, India should right now be inheriting the "Workshop of the World" title that China has held for the past 30 years – it has a worker-age dividend in millions of young, semi-skilled workers entering the market at low-cost. Jobs should be relocating from China to India. But they are not.
Download >> Securing Cheap Labor Resources Along China's Belt And Road Initiative
The content of this article is intended to provide a general guide to the subject matter. Specialist advice should be sought about your specific circumstances.