The business community in the Cayman Islands recently learned more about local risk factors for anti-money laundering, countering of terrorist financing and the countering of proliferation financing (AML/CTF/CPF), with the intention that they use the risk assessments to further strengthen and refine their AML/CTF policies and controls.
Government officials addressed more than 200 persons at The Ritz-Carlton, Grand Cayman on Friday, 14 February. The event was organised by the Anti-Money Laundering Steering Group (AMLSG), with assistance from the Ministry of Financial Services. The Hon. Tara Rivers, the Minister of Financial Services, was in attendance along with the Ministry's Chief Officer, Dr Dax Basdeo.
The event was opened by the Attorney General, the Hon. Samuel Bulgin, QC, who said the assessments will help the private sector to understand Cayman's risks, in order to implement mitigating measures to reduce them.
Head of the Anti-Money Laundering Unit (AMLU), Francis Arana, laid the base for the current risk assessments by providing background from Cayman's overall National Risk Assessment, published in 2017. Presentations on the current specific risk assessments followed, as National Coordinator with the AMLSG, Elisabeth Lees, spoke about Cayman's terrorism financing risk assessment; and General Registry's Head of Compliance Paul Inniss talked about non-profit organisations.
The Cayman Islands Monetary Authority's Head of Investments Supervision Division, Heather Smith, presented on Cayman's new registered persons regime; and the AMLSG Deputy National Coordinator, Justine Plenkiewicz, spoke about the Special Economic Zone.
However, in addition to the risk assessments, the Financial Reporting Authority's Sanctions Coordinator, Kim France, talked about identifying transactions that facilitate the financing of proliferation (also known as weapons of mass destruction). The AMLU's Senior Legal and Policy Analyst Duwayne Lawrence then provided an overview of recent amendments to the Anti-Money Laundering Regulations relating to country risk assessments.
The event was part of the work Government is undertaking to strengthen Cayman's regime, and to meet the recommendations made in the Caribbean Financial Action Task Force's March 2019 report on Cayman's jurisdictional effectiveness implementing AML/CTF/CPF international standards.
Captions – credit to the Ministry of Financial Services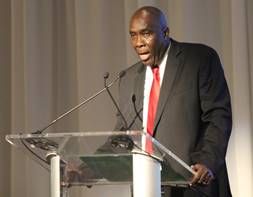 Attorney General, the Hon. Samuel Bulgin, provided opening remarks.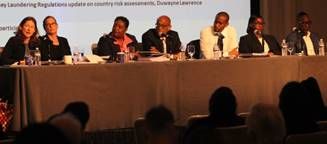 Government experts answered questions, from left: Justine Plenkiewicz, Elisabeth Lees, Kim France, Francis Arana, Duwayne Lawrence, Heather Smith, and Paul Inniss.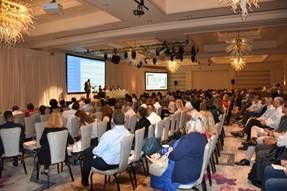 Over 200 hundred members of Cayman's business community were in attendance.
The content of this article is intended to provide a general guide to the subject matter. Specialist advice should be sought about your specific circumstances.