From our vantage point as advisers to many of the world's top private equity houses, broad market forces flow through to our instructions, and ultimately drive many of the terms of the funds we advise.
In this series we take a look at what we have been seeing in the investment funds world. Part four will focus on private equity funds.
Preqin has speculated1 that 2017 may set new fundraising records in the private equity field, which would be consistent with the levels of activity that our fund formation team is seeing in the Cayman Islands. From multi-billion dollar mega-launches, including the largest capital raise of all time for a buyout fund, to somewhat of a resurgence in smaller, start-up products, our data shows a buoyant, diversifying private equity market.
Fund Sizes
Whilst activity in the > $1bn fund space remains strong, 2017 has seen a marked increase in the number of sub $500m fund raises, often with new managers successfully launching their first products, in some cases ceded by larger established managers.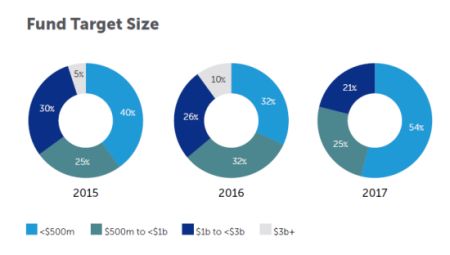 The increased success of these smaller funds appears correlated to a greater focus on emerging markets, as well as the launch of funds focussing on slightly more esoteric strategies such as education/training. The additional burdens placed on managers by the evolving regulatory landscape, which slowed activity in the start-up manager sector, appear to be mitigated by more user friendly and cost effective compliance solutions coming to market. Examples include technology solutions to simplify the reporting and filings required under FATCA and the Common Reporting Standard.
One word of caution, however; whilst a twelve month period between first and final closings has remained most common, we are seeing longer fund raising terms more frequently.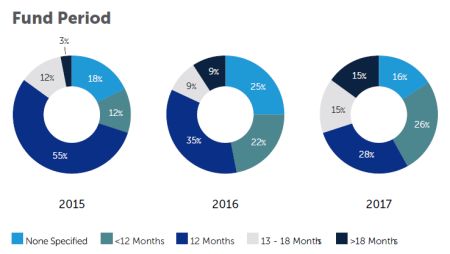 In addition, we have also seen certain managers going to investors as the twelve month commitment period nears its end to request approval for a six or twelve month extension.
As such, whilst significant capital remains available to be allocated and newer, smaller funds are seeing a slice of such allocations, limited partners continue to exercise caution in entering into commitments, with increasingly rigorous due diligence and operational stress testing procedures pushing out fundraising periods.
Footnote
1. Preqin Special Report: Fundraising Update Q3 2017
The content of this article is intended to provide a general guide to the subject matter. Specialist advice should be sought about your specific circumstances.