When setting up a global anti-counterfeiting program for the first time, there are several aspects to consider including the below: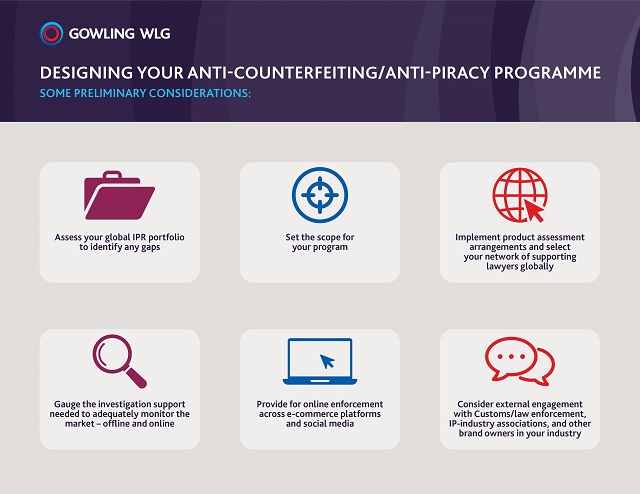 1. IPR Protection
A useful first line defence is trade mark registrations in your current and planned future market countries, and your countries of manufacture, production and finishing.  Depending on budget, you trademark registration approach may vary for key/house marks versus secondary marks.  Copyright and design right protection can prove especially useful in tackling fakes, potentially offering alternative enforcement avenues where registered trademark protection remains pending – trademark registration procedures in some jurisdictions may be lengthy.  Depending on the goods at issue, design protection may also "catch" cloned goods, being goods identical in appearance onto which your trademark is not affixed until after importation.  And, where unauthorised online sellers are using your website images in their listings, copyright can assist, subject of course to your having the requisite rights.  
2. Programme Scope
Obtaining sufficient budget to tackle fakes is typically a challenge for most brands.  When determining the scope of your program, geography (i.e. the countries/regions where you will focus) is a useful place to start.  Other "scoping" considerations include: the type of IPR on which you will focus (trademarks only?); the type of product targeted (you may choose not to enforce against "schwag" - promotional items not associated with your core goods); and whether you will set product limits/thresholds - a minimum quantity against which to enforce.  Thresholds should be carefully managed as these can have a chilling effect on Customs interceptions. 
3. Product Assessments
Consider the type of assessments required to determine whether goods are fake – will indicators evident from a visual inspection suffice, or is some form of forensic examination/laboratory testing required?  Ideally, any visual indicators you incorporate should be discernible from photographs rather than the physical sample having to be examined.  Disclosure of select indicators to law enforcement should help them isolate suspicious shipments more easily.
4. Investigations
Today's infringers operate through highly sophisticated networks, so the investigators you engage should themselves be sufficiently skilled in uncovering such operators. 
5. Online Policing and Enforcement
With such a large volume of dealings in fakes occurring online, robust online programme is vital, more so post pandemic and the spike in online purchasing.  To gain some insight on how extensively products bearing your brand are being made available online, commissioning a global online survey or "snapshot" covering both online marketplaces and social media is a good idea.  It often surprises brands to find products bearing their marks are being sold in countries or regions they themselves have not even contemplated for sales.  Once you've designed the online enforcement component of your programme, do bear in mind that to remain effective, your programme will need to evolve with the online landscape.
6. Engaging Externally
Partnering with Customs/Law Enforcement Authorities via Customs recordals and training does yield results.  Customs recordals can also provide some intelligence in local / non-key markets where bricks and mortar investigations are not possible due to budget constraints.  Some industry association memberships may include access to member enforcement initiatives as well as affording an opportunity to glean enforcement tips from other brands.
Read the original article on GowlingWLG.com
The content of this article is intended to provide a general guide to the subject matter. Specialist advice should be sought about your specific circumstances.