In 2022, Canadian venture capital was largely defined by corrective effects in the market following record levels of activity in the year prior.
Canadian venture-backed companies were hardly alone in this phenomenon, as businesses across the world responded to increased interest rates, rising inflation, supply chain issues and global unrest. Companies were faced with the choice to cut costs or accept financing in smaller amounts or on less favourable terms than in the recent past. Consequently, we saw fewer financings and at lower valuations than in the previous two years.
While the movement in deal terms was not dramatic, there was a clear directional trend towards more investor-friendly provisions and deals, including a significant increase in the number of down rounds compared to the previous two years. In our work with clients, we are seeing companies raise money via bridge and insider rounds containing investor-favourable terms on non-preferred share structures. The level of market departure to investor-friendly terms as compared to prior years is therefore understated by the data, as much of the structured non-preferred share financings are not publicly reported or not on standard terms.
Although the deal terms from financings we reviewed were certainly more investor friendly, startups continued to hold the line on terms such as participating preferred shares. The lack of participating preferred share financings is consistent with what we saw in the market and indicates that even in times of depressed valuations, Canadian startups are not willing to raise money on such dilutive terms.
2022 was a challenging year for Canadian founders and the Canadian VC ecosystem. We expect 2023 to be an equally challenging environment but strongly believe in the resilience of the Canadian start-up and venture capital ecosystem and expect that great companies will continue to be formed and financed. In particular, we expect areas such as clean energy and fintech will continue to thrive, spurred on by consumer appetite, more open markets and favourable regulations.
This is our third annual Venture Financing Report and we have included comparisons to the data from our 2020 and 2021 Venture Financing Reports throughout.
Several U.S. law firms publish similar reports1, which are referenced in this study to provide additional context on where Canadian market practices align and/or diverge from U.S. trends. For a quick overview of all the data, including a Canadian vs. U.S. comparison, please see the Snapshot on page 29.
Unless otherwise noted, the study reports all financings in Canadian dollars. For financings where the announcement was reported in U.S. dollars, the applicable amounts were converted into Canadian dollars using the daily average exchange rate published by the Bank of Canada on the date the applicable financing was reported.
2022 Financing Activity in Canada
The global business community had a wide range of issues to address in 2022, including political unrest, supply chain issues, rising inflation and increased interest rates. The Canadian VC ecosystem was no exception.
1) Deal Activity
Venture capital financings were down in Canada compared to the previous two years. Venture capitalists shifted toward lower-risk investments, while companies faced increased costs in doing business and in accessing capital.
At the same time, the decline in venture investment activity may not be as significant as the data seems to indicate. We are seeing several of our clients raise money via insider rounds. This includes extensions of prior fundraising rounds or financings in the form of secured debt. We are also seeing an increase in "sweeteners", such as warrants or pull-up rights, for investors that participate in these insider rounds.
"Although investors are more cautious, the appetite for good companies with clear ideas remains strong. Founders with a great structure and a well-thought-out product are still seeing a great deal of interest from Canadian and U.S. VCs." - Konata Lake, Partner, Torys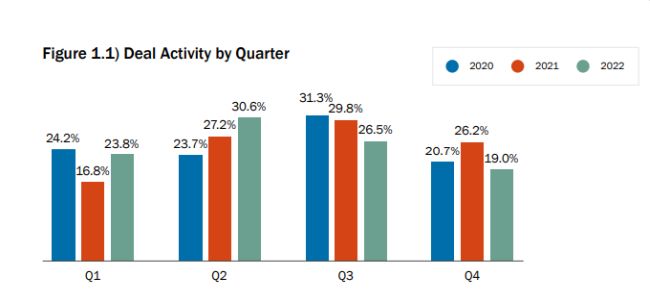 Companies headquartered in Ontario and Québec continue to attract the greatest number of venture capital financings in Canada. Notably, we observed a significant increase in the number of venture capital financings in Alberta as compared to previous years. This aligns with our experience advising clients, as we are seeing significant momentum in Alberta's tech sector.
"Alberta's tech boom is no accident—it is a concerted effort by our leaders and community. We will continue to see the innovation ecosystem in Alberta expand, spurred on by the need to diversify our economy. Investments in energy, fintech and business services will lead the way in this region in 2023." - Geoff Kelsall, Senior Associate, Torys
In 2021, we observed a slight uptick in financings for companies located in the Prairies and Atlantic Canada, and our theory was that remote work allowed investors to virtually meet more with founders in non-traditional markets. This trend appears to have reversed course in 2022, correlating with a return to inperson work.
Figure 1.2) Deal Activity by Province2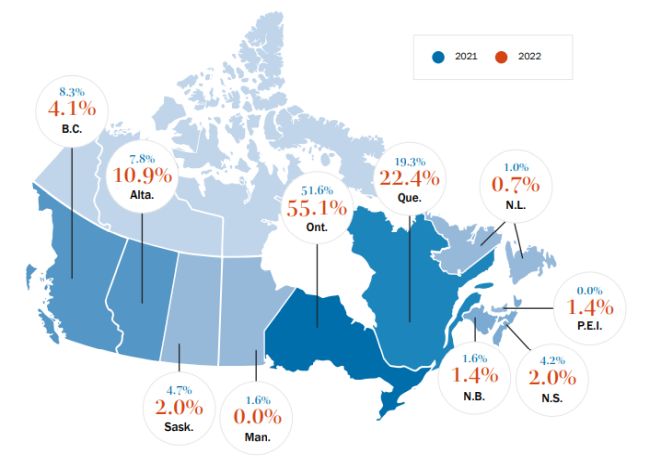 Our data shows an increase in earlier stage financings as compared to later stage financings.
This is consistent with what we saw in our practice. Later stage companies that raised at relatively high valuations in 2021 had a challenging time raising in 2022, amid the market downturn. A higher valuation round was not likely given the market, and founders and investors in these companies were hesitant to undertake a down round. Furthermore, later stage companies that would historically be able to raise venture capital financings based on an impending IPO, had a harder time doing so given the downturn in the IPO market. This led to delayed financings or structured financings via convertible debt (often secured by the assets of the company). Comparatively, early-stage companies did not have the valuation overhang of an earlier round and could more easily attract financings based on the company's vision and team (albeit at relatively lower valuations as compared to prior years).
"As many startups reach the end of their runway, they must decide whether to cut expenses, via layoffs and salary cuts, close-up shop, or try to sell via an M&A. Over the coming year, many will start with option three but if not successful will have to pick options one and eventually two. Nevertheless, we expect to see a significant increase in the amount of M&A activity starting in the second half of the year." - Matt Cohen, Founder and Managing Partner, Ripple Ventures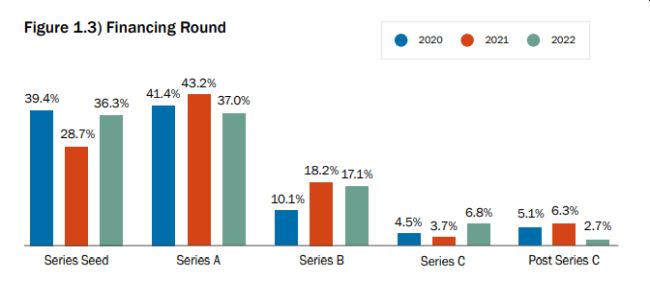 In 2022 (like in 2021 and 2020), there was a high concentration of Canadian deals in the Information Technology (45.2%), Business Products and Services (16.5%), Life Sciences (14.8%), and Consumer Products and Services (13.2%) sectors.
Information technology continues to drive financings in the startup and venture capital ecosystem. We expect this trend to likely continue throughout the year, whilst fintech will continue to have steady activity alongside the ongoing transformation of the financial services sector and, as Canada looks to refocus its strategy around climate targets, we will likely see an increase in clean energy deals, particularly in Alberta.
To view the full article, click here.
Footnotes
1. See (i) Silicon Valley Venture Capital Survey, Fourth Quarter 2022, published by Fenwick & West LLP on February 15, 2023, and (ii) the Entrepreneurs Report: Private Company Financing Trends (Full-Year 2022), published by Wilson Sonsini on February 17, 2023 (collectively, the "U.S. Deal Studies").
2. The financing surveyed for the study do not include financings completed by companies headquartered in British Columbia that are incorporated under the Business Corporations Act (British Columbia) due to the absence of public access to such companies' articles.
The content of this article is intended to provide a general guide to the subject matter. Specialist advice should be sought about your specific circumstances.