Em 01/07/2022, a Procuradoria-Geral da Fazenda Nacional ("PGFN") publicou a Portaria nº 5.885/2022, que prorrogou até31 de outubro de 2022o prazo para adesão ao Programa Emergencial de Retomada do Setor de Eventos (Perse), à Transação Excepcional, à Transação Extraordinária, ao Programa de regularização do Simples Nacional, às Transações de Pequeno Valor (Simples Nacional), à Transação Excepcional para Débitos Rurais e à Repactuação de transações em vigor.
O prazo para a adesão à Transação em casos de Ágio continua sendo 29 de julho de 2022.
Com o objetivo de implementar as recentes alterações introduzidas pela Lei 14.375/2022 (veja nossos informativos anteriores), a Portaria PGFN nº 5.885/2022 também alterou os benefícios oferecidos em três desses programas de transação.
A tabela abaixo destaca as principais alterações nesses programas, bem como os pontos que ainda devem ser regulamentados pela PGFN e Receita Federal: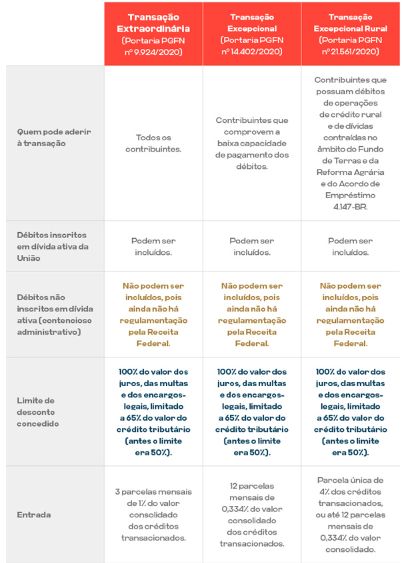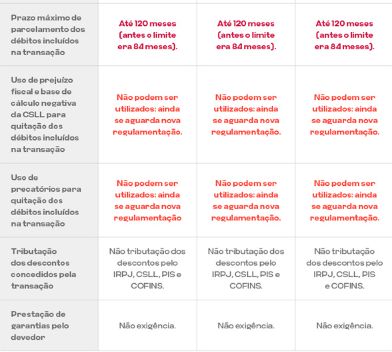 No entanto, ainda se aguarda a edição de novas da PGFN e da Receita Federal para regulamentar de maneira mais completa outros benefícios trazidos pela Lei nº 14.375/2022, seja para alcançar outras transações tributárias cujo prazo de adesão foi ampliado, seja para regular temas como o aproveitamento de prejuízos fiscais de IRPJ e base de cálculo negativa de CSLL e a utilização de precatórios.
Nossa equipe está à disposição para esclarecer qualquer dúvida a respeito do tema.
The content of this article is intended to provide a general guide to the subject matter. Specialist advice should be sought about your specific circumstances.