Com intuito de adotar as medidas para resposta à declaração de emergência em saúde pública internacional decretada pela Organização Mundial da Saúde diante da pandemia causada pela Covid-19, foi prorrogada a restrição excepcional e temporária de entrada no Brasil, por transporte aquaviário ou meios terrestres. A restrição por via terrestre não se aplica aos estrangeiros vindos do Paraguai, desde que obedecidos os requisitos imigratórios adequados à sua condição.
A Nova Portaria nº 630 determina que, a partir do dia 30 de dezembro de 2020, o viajante de procedência internacional, brasileiro ou estrangeiro, apresente à companhia aérea, antes do embarque:
I - Documento comprobatório de realização de teste laboratorial (RT-PCR), para rastreio da infeção pela Covid-19, com resultado negativo/não reagente, realizado com 72 horas anteriores ao momento do embarque; e
II - Declaração de Saúde do Viajante (DSV) preenchida (impressa ou por meio digital) com a concordância sobre as medidas sanitárias que devem ser cumpridas durante o período que estiver no país.
Sendo assim, cumpridos tais requisitos, ainda é permitida a entrada no Brasil, por via aérea, de estrangeiro de qualquer nacionalidade, desde que possua visto de entrada exigido pela legislação aplicável, conforme abaixo destacado: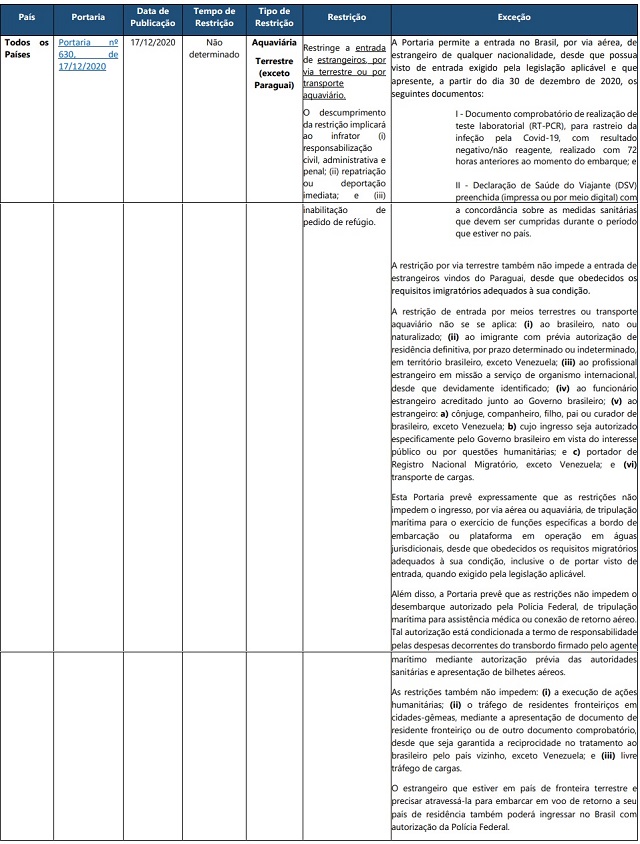 Visit us at Tauil & Chequer
Founded in 2001, Tauil & Chequer Advogados is a full service law firm with approximately 90 lawyers and offices in Rio de Janeiro, São Paulo and Vitória. T&C represents local and international businesses on their domestic and cross-border activities and offers clients the full range of legal services including: corporate and M&A; debt and equity capital markets; banking and finance; employment and benefits; environmental; intellectual property; litigation and dispute resolution; restructuring, bankruptcy and insolvency; tax; and real estate. The firm has a particularly strong and longstanding presence in the energy, oil and gas and infrastructure industries as well as with pension and investment funds. In December 2009, T&C entered into an agreement to operate in association with Mayer Brown LLP and become "Tauil & Chequer Advogados in association with Mayer Brown LLP."
© Copyright 2020. Tauil & Chequer Advogados, a Brazilian law partnership with which Mayer Brown is associated. All rights reserved.
This article provides information and comments on legal issues and developments of interest. The foregoing is not a comprehensive treatment of the subject matter covered and is not intended to provide legal advice. Readers should seek specific legal advice before taking any action with respect to the matters discussed herein.