Latin America's largest economy, Brazil has undergone months of uncertainty due to political turmoil in the country. Brazil's fiscal plan is now home to great. Investment opportunity in Brazil is through the roof now.
The Covid-19 pandemic led the Brazilian government to spend at unsustainable levels with its debt spiraling out of control.
However, the new government under President Lula da Silva recently announced Brazil's fiscal plan, limiting spending and a commitment to erase the budget deficit next year.
This news lifted local markets and signaled to foreign companies that there is a positive investment opportunity in Brazil.
Let's take a closer look at Brazil's fiscal plan, how it affects foreign investment, and why
back office services in Brazil can help your business grow.
Knowing how to open a corporate bank account is the first step to investment opportunity in Brazil and Brazil's fiscal plan
What is Brazil´s Fiscal plan?
In late March, finance minister Fernando Haddad revealed Brazil's fiscal plan.
The government announced that it is committed to increasing social programs and public investment. It also proposed new fiscal rules to restrict spending growth.
Under the new regulations, there would be an allowance for public spending to increase annually by 0.6% to 2.5% above the inflation rate. Additionally, the growth in spending would be capped at 70% of the growth in revenue over the preceding 12 months.
The revised structure would aim for a primary deficit of zero in 2024, followed by a primary surplus equivalent to 0.5% of GDP in 2025 and 1% of GDP in 2026.
There would be a range of plus or minus 0.25 percentage points for the primary budget objective.
"This measure is essential to guarantee the stability of the Brazilian economy, reduce inflation, stimulate private investment, and attract new international investments," the finance ministry said in a statement.
The goal of Brazil's fiscal plan is to boost investor confidence in the Brazilian economy and international markets reacted positively to the news.
The Brazilian benchmark stock index (.BVSP) experienced a 1.5% increase, and its currency marginally strengthened against the U.S. dollar, reaching a nearly two-month high.
While analysts expressed cautious relief at the proposal, they also raised concerns about its implementation and specificities.
Brazil's fiscal plan also received the support of the major banks in the region.
How Does it Affect Investment Opportunity in Brazil?
Foreign investors were encouraged by the government's new financial framework.
According to Brazil's Treasury Secretary Rogerio Ceron, there has been an increase in demand for local bonds and a strengthening in the local currency.
The Brazilian real has grown 2.6% since the new fiscal plan was announced. Ceron also said that foreign investors have been buying fixed-rate bonds at an increased scale.
Eliminating the government's primary debt by 2024 should help stabilize the Brazilian economy, decrease inflation, promote private investment, and attract new foreign investments.
Brazil's export industry continues to flourish, its trade surplus hit a record high in March 2023.
Foreign direct investment nearly doubled in 2022 and is projected to remain strong as inflation gradually falls. The energy and tech sectors have been the main sources of foreign investment over the past couple of years.
Brazil's fiscal plan has increased the investment opportunity in Brazil for foreign companies looking to enter the market.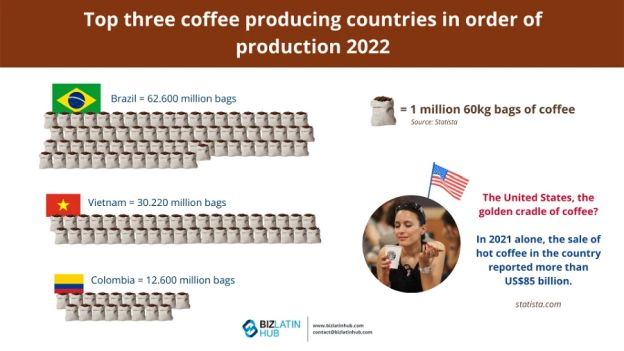 Coffee production is one potential investment opportunity in Brazil
Back-Office Services in Brazil: What You Need to Look for
When it comes to running a business in Brazil, outsourcing back-office services can be a smart move to help streamline operations and improve efficiency.
However, finding the right service provider can be a challenging task, especially for foreign investors unfamiliar with the Brazilian market.
There are several factors to consider, such as the reputation of the service provider, industry knowledge, international experience, and communication channels.
Industry Expertise: Look for business services in Brazil with relevant experience in your industry to prepare for potential obstacles that may arise. Seek a provider who has previously worked with organizations similar to yours.
Effective Communication: Choose a legal services provider in Brazil that utilizes online management tools, especially if you are managing your affairs from outside the country or traveling frequently. This enables you to stay updated and communicate seamlessly, regardless of time differences.
Global Experience: For foreign investors, it is critical to find a back-office services provider in Brazil with previous experience working with overseas investors. This will help ensure that common issues faced by international investors are resolved efficiently.
Solid Reputation: Partner with a service provider that has an outstanding reputation in the local market, gained from delivering exceptional services to previous clients. Research the firm's online reviews to evaluate its reputation in Brazil.
The content of this article is intended to provide a general guide to the subject matter. Specialist advice should be sought about your specific circumstances.