Overview
As expected the March quarter contraction in the United States was transitory as severe winter weather disrupted production. In the June quarter, growth rebounded sharply, growing at an annual rate of about 4%. The underlying fundamentals of this recovery are relatively robust. Job creation remains moderate with employment continuing to fall. Credit growth is strong and businesses are reporting faster growth in new orders and production. The withdrawal of Quantitative Easing in October provides further proof of the sustainability of the US recovery.
Across the Atlantic however the encouraging signs of a recovery have all but disappeared. Economic growth in the Eurozone has slowed to 0.2% in the June quarter. Germany and Italy contracted over the period while France was flat. It is clear that the sanctions on Russia are beginning to have an effect. Russia purchases almost 50% of its imports from the EZ. Should the current tensions escalate the likelihood of the EZ falling into a triple deep recession are high. With growth flat-lining, deficits will only deteriorate from here and the debt burden worsen.
China is on the verge of a significant slowdown as the rampant over-investment in residential property and infrastructure begins to unwind. In conclusion, outside of the United States, the global recovery is beginning to show signs of faltering.
United States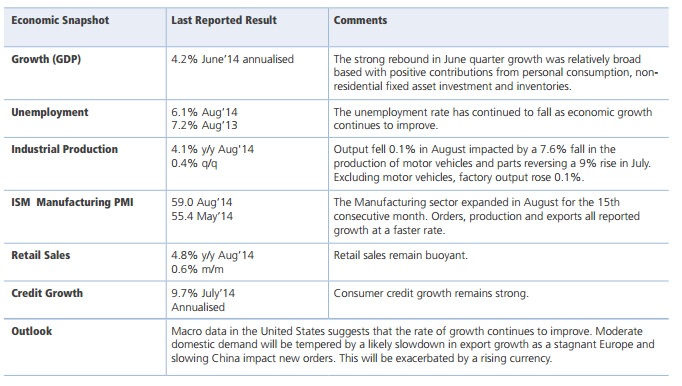 Eurozone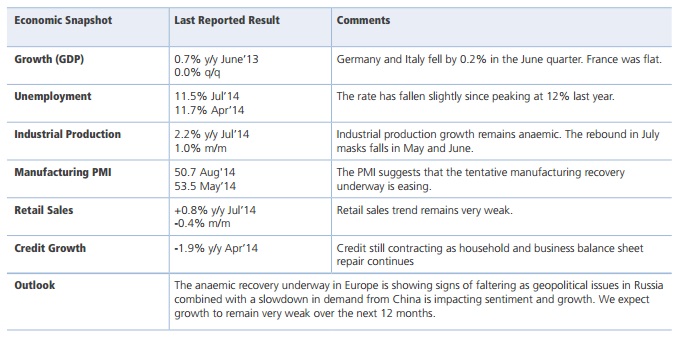 China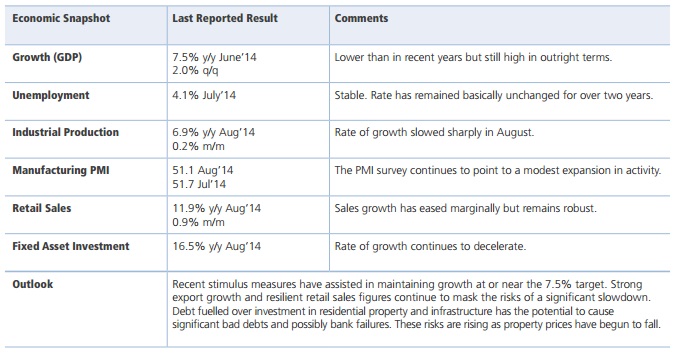 This publication is issued by Moore Stephens Australia Pty Limited ACN 062 181 846 (Moore Stephens Australia) exclusively for the general information of clients and staff of Moore Stephens Australia and the clients and staff of all affiliated independent accounting firms (and their related service entities) licensed to operate under the name Moore Stephens within Australia (Australian Member). The material contained in this publication is in the nature of general comment and information only and is not advice. The material should not be relied upon. Moore Stephens Australia, any Australian Member, any related entity of those persons, or any of their officers employees or representatives, will not be liable for any loss or damage arising out of or in connection with the material contained in this publication. Copyright © 2014 Moore Stephens Australia Pty Limited. All rights reserved.