Six Immediate Action Team (IAT) officers stormed the cell that Dunghutti man David Dungay Junior was occupying in the hospital ward of Long Bay prison on 29 December 2015. The riot squad officers had been called in because the 26-year-old diabetic refused to stop eating a packet of biscuits.
The officers then dragged Mr Dungay into an observation cell and placed him face down on a bed in the potentially-fatal prone position. The young Aboriginal man called out a total of 12 twelve times that he couldn't breathe, whilst some of the officers continued to kneel on him.
The IAT guards then called in a nurse to administer David with a 10 milligram shot of midazolam: a fast-acting sedative. And about a minute before he took his final breath, one of the officers piped in with the line, "If you can talk, you can breathe."
The inquest into the death of David Dungay began in July last year. However, two weeks in, the family was told that the proceedings had to be postponed as the court had ran out of time. So, the final hearings were held in March this year.
And just last week, NSW deputy state coroner Derek Lee delivered his findings. The magistrate made 20 recommendations, none of which related to the IAT officers being held to account. However, he did point the finger at the nurse, and suggested his professional conduct be reviewed.
Restrained until death
"He was killed by the Long Bay IAT team using brutal, life-taking force, which came from a power play from corrective services," Mr Dungay's cousin Elizabeth Ann Jarrett told Sydney Criminal Lawyers.
"We sat and heard over and over through the coronial inquest that David was suffering no medical or security emergency," she continued. "Yet, the IAT team still took the judgment call – without following proper protocols or procedures – to storm David's cell with brutal force."
The Gumbaynggirr Dunghutti Bundjalung woman explained that she bases her understanding of what happened to her cousin on the " horrific CCTV footage of his last minutes of life" that was released late last year.
The final moments of the clip show several officers kneeling on David, whilst he is literally screaming that he can't breathe. So, it's not as if the officers were unaware that a potentially life-threatening situation was at hand, or rather, they should have been.
One officer casually and repeatedly tells Dungay that he can breathe despite his protestations to the contrary. This officer, who was directing the others, tells them to move the inmate's head a little to the right. David yells out that he still can't breathe. And the officer responds with, "Yes, you can."
"The actions of the officers on that day were illegal" Jarrett makes clear. "They should be held accountable for the actions that took my cousin's life."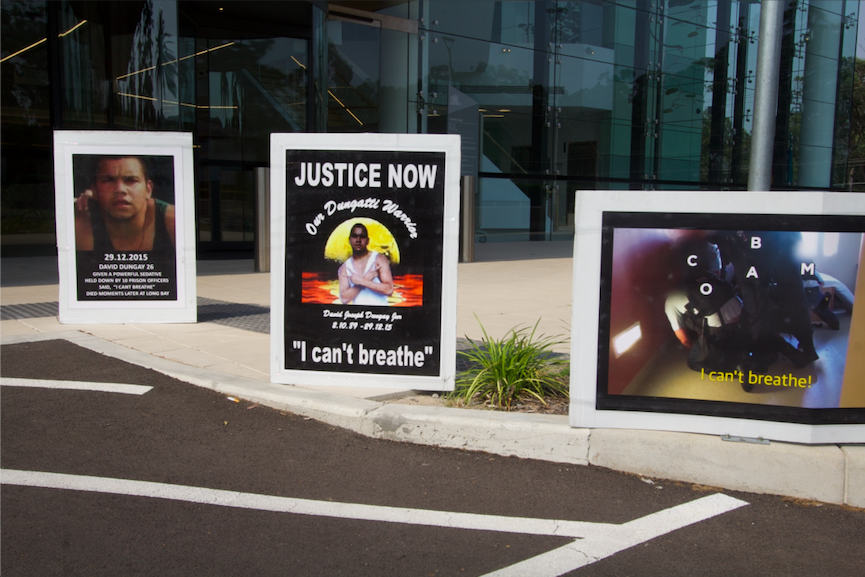 A power play
The Dungay family made submissions calling for four of the officers to be referred for disciplinary action. This included the officer who failed to cease the restraint when David asserted he couldn't breathe, as well as another for using excessive force when holding him down.
However, coroner Lee found that "the conduct of the IAT officers was limited by systemic deficiencies in training which had been provided to them". And he added that the riot officers weren't "motivated by malicious intent", when moving him to a second cell.
The inquest also ascertained that there were several different stories as to why officers decided to storm the first cell and move Dungay to another. One officer said it was the suggestion of the nurse, while another claimed it was a joint decision between officers and nursing staff.
But, the coroner determined it was one of the riot officers who decided a cell transfer should take place. And the Dungay family's lawyer George Newhouse posited that this decision was more about a power play by this officer in response to David's behaviour, than any actual need to move him.
Systemic racism
Indeed, outside the court following the handing down of the disappointing findings, Mr Newhouse implied that it was unnecessary to call in the IAT. And if David had been left alone, "he'd be alive today." Newhouse further stated that the inquest wouldn't be the end of their quest for justice.
And as far as Jarrett is concerned, the findings were an interpretation of events through the "white lens of reform and racist patronising". And this paternalistic rendering failed to acknowledge the "power play imbalance and racial violence perpetrated in prisons" towards First Nations peoples.
"The coroner had some suggestions for systemic change, but did not recognise the truth of the matter before him or our suffering or the real dynamics of Aboriginal deaths in custody," she said, adding that it was just one more case of justice denied to a family who'd lost a relative inside.
Effecting change
The Royal Commission into Aboriginal Deaths in Custody handed down its findings in 1991. And since that time, there have been more than 420 First Nations deaths in either police or corrective services custody.
The Blak Deaths in Custody (BDIC) campaign is drawing attention to deaths inside that have occurred in NSW over the last decade. Along with David's passing, there's that of his cousin, Eric Whittaker, who died shackled to a hospital bed, while the inquest into Tane Chatfield's death in about to begin.
The campaign is being led by Fighting in Resistance Equally (FIRE) and the Indigenous Social Justice Association (ISJA). And a declaration delivered to state parliament in May called for an end to incarcerating First Nations peoples for nonviolent crimes, amongst other things.
The great Australian silence
According to Jarrett, what's leading to the ongoing tragedies occurring in detention is white Australia's inability to actually deal with the 231 years of colonial violence it's perpetrated towards Aboriginal peoples. And it needs to be held accountable for these past and present injustices.
Despite it being 2019, the "racial injustice against Aboriginal people" is "still back in the 1800s". Just take a look at the recent atrocities perpetrated in the remote community of Yuendumu.
"We, the First Nation people, deserve better than this continuing whitewashed injustice, when it comes to our loved ones dying behind bars" Ms Jarrett concluded. "We need truth and the rights over our own lives, as it's always the same: no justice – just us."
"Sovereignty was never ceded."
The content of this article is intended to provide a general guide to the subject matter. Specialist advice should be sought about your specific circumstances.