Matthew Burgoyne and Laure Fouin have joined Osler as Co-Chairs of the firm's Digital Assets and Blockchain Group. Matthew will be based in Calgary while Laure Fouin will be in Osler's Montréal office. Together they bring a depth and breadth of experience working with both startup and institutional clients and regulatory regimes.
Q:You both have dynamic practices that focus on financial products and services regulation, securities regulation and securities issues facing the cryptocurrency industry. What interested you in the work that surrounds the development of this sector and bringing that expertise to Osler?
Laure: My practice has always been focused primarily on financial products and services and regulation. In 2015, I started getting involved with fintechs and applying existing laws and regulation to new types of business models and products. I also specialize in securities registration. In the last few years, the main regulatory aspect that affected crypto is that crypto platforms need to be registered under the securities registration regime, with tailored terms and conditions established over time by securities regulators. Osler has shown a strong willingness to lead in this space and I think we have the means to grow in this sector. The fact that we span the entire country with the help of the extremely well known Emerging and High Growth Companies practice is why I think Osler is the best place to be doing this work on digital assets.
Matthew:My background is similar to Laure's in that I have always focused on specific industries in my career -- I'm a corporate and securities lawyer. Early in my career I focused on the mortgage investment corporation and private lending space. Most of my clients were in that industry and much like what's happening with crypto now, there were some regulations passed in Alberta that changed the law so that all mortgage investment corporations were investment funds in Alberta. We had to help clients register as investment fund managers, restricted portfolio managers and exempt market dealers. I discovered bitcoin in 2013 and I was entrepreneurial with an eye to building my practice in that area. Immediately prior to coming to Osler, about 85% of my clients were in the cryptocurrency and blockchain space.
Much of my work involves helping small- and- medium sized entities analyze how the law might apply to their business. Once we determine what their business is and provide an analysis, we can help to incorporate and structure the company, help the company raise money through seed financing, private placements and working with VC funders. We can also help draft specialized agreements that the client might need in the course of their business, everything from terms of service to M&A documentation. We also help clients who are the subject of securities regulatory investigations. I'm hoping to grow what I've already built and provide better service to my Ontario-based clients and to my international clients. Now I can assist clients who need additional services in tax, intellectual property, and derivatives.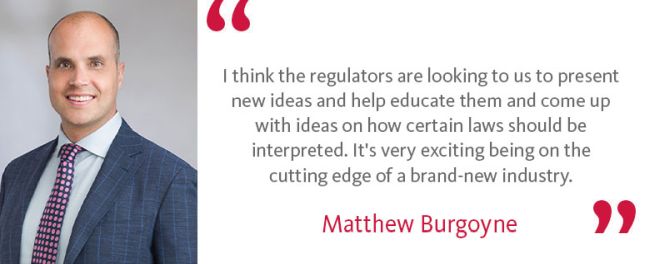 Q:Why are you drawn to this area of law? What is the most satisfying aspect of it for you?
Laure:I like interpreting the law and dissecting it to apply it to a new business model or product. We both also appreciate innovative businesses, being entrepreneurial and looking at things with a new lens. We work on ensuring compliance with securities regulation that is very specific and analyzing it with people who have a completely new way of looking at things, like entrepreneurs that come from the tech or capital markets world and are trying to provide innovative products that end-users want. We are part of building a market that balances investor protection with innovation.
Matthew:We can really serve as thought leaders and help shape policy and shape law. I think the regulators are looking to us to present new ideas and help educate them and come up with ideas on how certain laws should be interpreted. It's very exciting being on the cutting edge of a brand-new industry. The concept of having a decentralized finance system is intellectually appealing to me. I think there's some value to removing old institutional intermediaries in financial transactions. There are implications for other areas of the economy, not just finance. We could see blockchain technology applied to healthcare, wills and estates, real estate-- I think we're going to see a lot of disruptive activity. Most of all I really enjoy practicing in an industry that is cutting edge and that is a little bit controversial. I'm like Laure, I like I like dipping my foot in something that's a little bit controversial and unique.
Q:How do you think your combined backgrounds in law will serve clients?
Laure:I think our backgrounds are complementary in all respects, we have different expertise, background, and even geographical locations, and together we can better serve clients. I can turn to Matt for certain things, and he can turn to me for certain things. I wouldn't have done this alone. Together with Matt we have the full package. Matt's deep knowledge of the space, the entrepreneurial component, and being involved in this sector since 2013, that's a huge asset to have.
Q:What are the major challenges right now for the clients you're dealing with?
Matthew:There is the cost to comply with existing legislation. It's a challenge for some to register as a securities dealer which can be an expensive endeavour. There is still some regulatory uncertainty in Canada as it relates to certain aspects of cryptocurrency, like decentralized finance. There's also some regulatory uncertainty as to how issuers of certain cryptocurrencies are classified under securities laws. There's always the threat of regulation and that it's going to put a damper on the industry.
Laure:I would add that with the recent liquidity crisis and valuation drops, some have had to make the very difficult decision of restructuring or freezing certain asset withdrawals.This is one of the things that can affect users directly and public confidence. This is something we will need to manage and help in distinguishing the good from the bad to restore the legitimacy of the space. That's maybe one of the biggest dents in the reputation of the digital assets sector that we will need to get through – and to get through it, we need strong players that secure clients' assets.
Q:Where are the opportunities for both the institutions and the startups right now?
Matthew:I think there is a huge need for regulatory compliant NFT [Non-Fungible Tokens] platforms in Canada. There are a few platforms in existence right now, but it's hardly an oversaturated market. The crypto trading exchanges are a bit oversaturated right now, but there are definitely businesses that are using NFTs in different ways, such as for gaming. I think there's still room to innovate and there's a market in Canada for those types of products that are distributed in a regulated manner. Also, just tying in existing crypto infrastructure and businesses in different ways for applications in the metaverse. This idea of a decentralized internet is happening -- taking control away from Facebook and Google and putting it in the hands of entrepreneurs and small businesses. I think for small businesses and entrepreneurs there is huge potential despite the current downturn.
Q:From the institutional side, do you see that they are also looking to forge ahead with new plans?
Laure: Yes, the downturn does not negate the capabilities of bitcoin, digital assets and blockchain in general to transform financial services and the opportunities that they represent for financial institutions to enhance their products offerings. This is a time for market maturing and consolidation.
Q:How do you plan to grow the Digital Assets and Blockchain practice at Osler?
Laure: I think we will be growing the practice by having this multidisciplinary team that is able to serve clients in every aspect of what they do. We have people who can go in front of the OSC (Ontario Securities Commission) and other regulators to represent clients. Now we have this strength of a full-service firm along with Matt and I being the translators between the digital assets and blockchain area and these specialists.