Welcome
Hello and welcome to the fourth issue of Life at Winston: Charlotte Edition.
I have always loved the way Harper Lee describes summer in To Kill a Mockingbird:
"Summer was on the way; Jem and I awaited it with impatience. Summer was our best season: it was sleeping on the back screened porch in cots, or trying to sleep in the tree house; summer was everything good to eat; it was a thousand colors in a parched landscape ..."
Office Managing Partner
As I write this, summer is well on its way and is a contender for our best season. We welcomed to the office Christina Wheaton (back), Kim Hunniford, and our outstanding summer associates. Kobi Kennedy Brinson is now leading Winston's Financial Services Industry Team with Chuck Boehrer (thank you Amanda Groves for your amazing leadership!). We resumed Operation Sandwich and donated $50 per sandwich (more than $6,000) to support Charlotte's Roof Above and its important work in our community (with many (easy) volunteer opportunities). We partnered with The Center for Community Transitions to sponsor its Art Auction and are looking for more ways to support its important work as part of our CEASE Initiative. As part of our Diversity & Inclusion initiative, Chris Dowdy shared with us the history and impact of Juneteenth and ways to celebrate the holiday and James Kirchick shared his New York Times Bestseller: Secret City: The Hidden History of Gay Washington with us (I just started it (after finishing Empire of Pain), and it is terrific).
We have many more plans for the summer and hope you can join us virtually or in person. To name a few this month: on July 18, our Women's Leadership Initiative will host Kathryn Kolbert to discuss the impact of the Supreme Court's decision in Dobbs v. Jackson; also on July 18, ChIPs Carolinas Chapter (which we launched earlier this year) is hosting its virtual Dress to Connect event; and on July 19, we are partnering with The Charlotte Chapter of the ACC to present a CLE (hybrid) addressing litigation preservation strategies for hybrid work technologies.
Please enjoy this issue of Life at Winston: Charlotte Edition which, in addition to many of the events mentioned above, highlights our Class Actions 101 series with Jeff Wilkerson and Shawn Obi (Los Angeles), Jon Brightbill's (Washington) presentation at the U.S. Chamber Litigation Center and Institute for Legal Reform event in Charlotte, and former Winston partner Kathi Vidal's confirmation as the Under Secretary of Commerce for Intellectual Property and Director of the United States Patent and Trademark Office (Congratulations KV!).
I hope you continue to be well and to enjoy all that summer has to offer with everything good to eat and its thousand colors.
Please let us hear from you.
WINSTON PRESENTS
U.S. Chamber of Commerce Event in Charlotte
On April 27, 2022, Jon Brightbill (Partner, Washington, D.C.) presented to members of the Charlotte legal and business communities at an event hosted by the U.S. Chamber Litigation Center and Institute for Legal Reform, the litigation arm of the U.S. Chamber of Commerce. The event—titled "Free Enterprise in the Courts: What to Expect in 2022 and Beyond"—

Partner
convened panels of in-house counsel and legal experts from leading law firms to discuss current legal trends and other business litigation considerations, including focused discussions on the United States Supreme Court, federal regulator activity, and the plaintiff's bar.
Jon's background and experience made him uniquely suited to present on trends and forecasts for federal regulator activity in the environmental area. Jon is a trial and appellate lawyer who currently serves as the Chair of Winston's Environmental Litigation & Enforcement Practice. Previously, Jon was the nation's head environmental criminal and civil law enforcement official as Acting Assistant Attorney General at the U.S. Department of Justice. Jon has argued in the courts of appeal and district courts, including arguing many of the most significant environmental and natural resource cases in recent years.
Jon's presentation at the U.S. Chamber event covered the following topics, which Jon has also written and spoken about in recent publications (see hyperlinks):
We were thrilled to welcome Jon to the Charlotte community for this recent event and look forward to connecting him with our clients—in the Carolinas and nationally—to navigate the evolving regulatory and litigation landscape for environmental matters.
PERSPECTIVES
Class Action Fairness Act
For better or worse, class actions are a staple of modern litigation. But for in-house counsel who find a new class action hitting their desk, they can be difficult or even overwhelming. Issues that may have seemed small or even negligible can create millions of dollars of potential liability when aggregated into a class action. Compounding that, class actions implicate unique and sometimes complicated procedural rules. Recognizing

Partner
these issues, Los Angeles partner Shawn Obi and I are curating a series titled "Class Actions 101" that will provide, over the course of several posts, a primer on recurring issues in class-action cases.
This month saw our inaugural post, focused on removal under the Class Action Fairness Act, or "CAFA." CAFA is an important tool for class-action defendants, which can allow removal to federal court—often more favorable for defendants—even when removal would be impossible under traditional diversity or federal-question principles. But CAFA is also complicated and severely time-limited, and it can lead to hard-fought pretrial disputes and traps for the unwary. Our post provides a starting point for navigating CAFA.
Future posts in the Class Actions 101 series will address deposing the named plaintiff, fighting class certification, and the unique hurdles to settling class-action cases. Taken together, we hope the Class Actions 101 series will provide needed guidance to those new to class actions—or those who just need a refresher. Stay tuned for future posts!
INDUSTRY SPOTLIGHT: FINANCIAL SERVICES AND
CORPORATE LENDING
Christina Wheaton's Return to Charlotte
Charlotte is the second-largest banking center in the United States and home to many of our financial services attorneys who represent financial services clients on transactional, litigation, regulatory, and compliance matters. Our corporate lending group, led by partner Jason Bennett, represents banks, other financial institutions, and borrowers on all segments of debt transactions.
Partner

Associate
Jason is pleased to announce that associate Christina Wheaton has returned to Charlotte, after a two-year stint in our Chicago office. Christina primarily represents banks and other financial institutions in secured financing transactions, including acquisition finance, cash flow, and asset-based lending and restructurings. Aside from escaping Chicago winters, Christina is excited to be nearer to her Charlotte-based clients and to reunite with attorneys and staff who create a real sense of community in the office. When asked what her favorite things to do in Charlotte are, she responded:
"I enjoy trying out any of Charlotte's breweries, hiking at Crowder's Mountain, and taking a quick trip to Asheville or Charleston."
Welcome back, Christina!
THE CHARLOTTE LOCAL
CCT Art Auction
On June 5, 2022, Charlotte Partner Kobi Kennedy Brinson sponsored the Center for Community Transitions (CCT) Art Auction & Fundraiser. The Mint Museum Uptown served as the backdrop for the event, which featured works by local, regional, and national artists to raise funds for CCT's critical work in the Charlotte-Mecklenburg community.

Partner
For more than four decades, CCT has assisted individuals and families who have been impacted by incarceration, while also serving as a thought leader on re-imagining justice. CCT has grown from serving 100 people annually to serving 1,500-plus.
CCT focuses on three programs to achieve its mission:
LifeWorks!, located at the Goodwill Opportunity Campus, provides people with criminal records with the resources and tools needed to reach their professional and personal goals;
Families Doing Time stabilizes families by supporting children with incarcerated or deported loved ones, and providing academic and enrichment support; and,
The Center for Women works with women near the end of their prison sentences by helping with reentry into the community through individualized employment plans, community employment, education and vocational training, life skills workshops, counseling, support, and family reunification assistance.
Winston's Charlotte office looks forward to partnering with CCT in conjunction with our firm's commitment to racial justice, women's empowerment, and community restoration.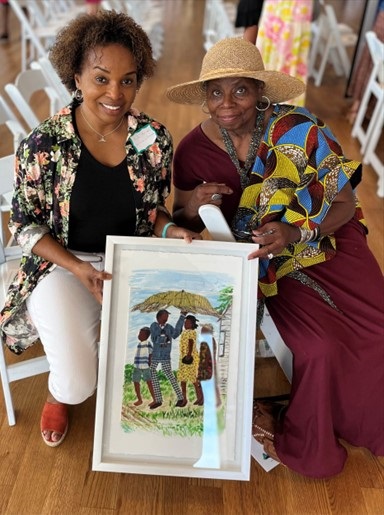 Partner Kobi Brinson with Charlotte's legendary artist, Nellie Ashford, whose work adorns two walls at Charlotte Douglas International Airport.
OPPORTUNITY TO ENGAGE
Kathi Vidal Confirmed as USPTO Director
We are delighted that our former partner, Kathi Vidal, was sworn in as the Under Secretary of Commerce for Intellectual Property and Director of the United States Patent and Trademark Office on April 13, 2022. In her first 90 days, Kathi is already tackling the toughest substantive issues facing the USPTO and U.S.-based innovation (e.g., Fintiv, patent abuse, and drug patentability) while seeking out opportunities to include the underserved and underrepresented in innovation. In May, Kathi shared the USPTO's new, interim vision and mission: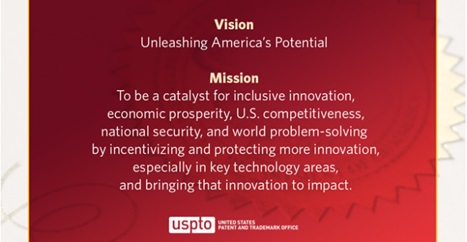 She also provided an update on many priorities and initiatives covering process, protection, and inclusion. True to form, Kathi is sharing how these priorities and initiatives are moving forward through many platforms (e.g., The Director's Blog, conferences and meetings, requests for input, collaboration with other leaders, and stakeholder listening sessions).
The opportunity for engagement is available to all of us. Encouragement to innovate and protections for innovations remain as critical to the advancement of society as they were in 1787 when Article I, Section 8, Clause 8 was incorporated into the United States Constitution. I encourage you engage by: (1) subscribing to The Director's Blog, (2) attending the stakeholder listening sessions, and (3) even requesting listening sessions.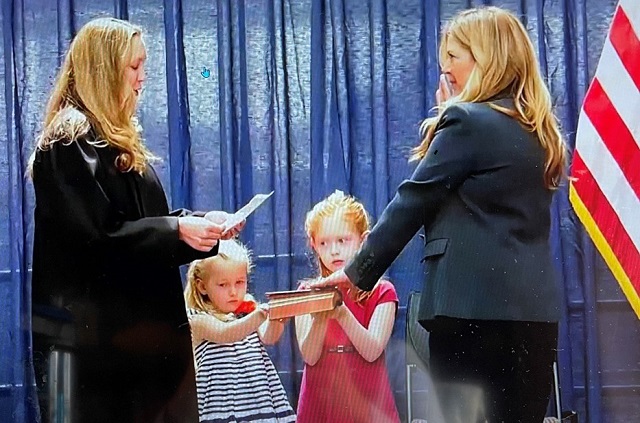 Announcements
A Warm Welcome to Our Summer Associates
Courtney Coppage (UNC '23) and Lauryn Workman (NYU '24) joined us as summer associates in May.
Courtney is from Raleigh and is heading into her third and final year of law school at UNC. She also did her undergrad studies at UNC (a double Tarheel!). In between undergrad and law school she lived in Prague, Czech Republic for two years. A fun fact about Courtney is that she loves metal music.
Lauryn is from Greenville, SC and is heading into her second year of law school at NYU. She did her undergrad studies at USC in Columbia, SC. A fun fact about Lauryn is that she has never learned to drive, and now that she is
Summer Associate

Lauryn Workman Summer Associate
living in New York for law school, she doesn't plan on learning to drive any
time soon!
Their summer experience is now coming to a close, but we've had a wonderful time working with them and also having some fun! Most recently, we went to a Charlotte Football Club game and cheered for the team.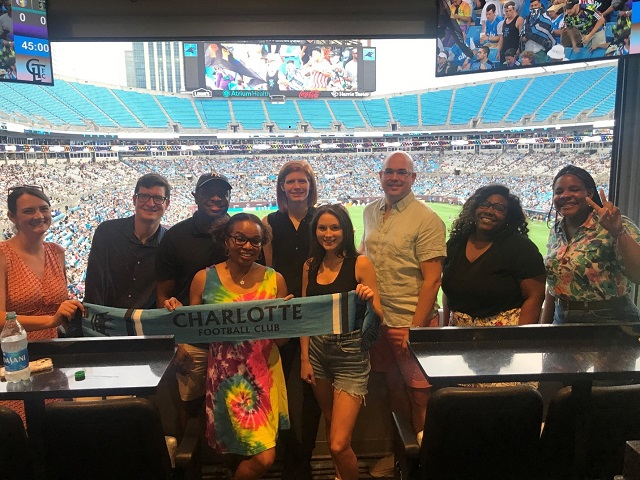 Back row: Elizabeth Ireland, Jeff Wilkerson, Timothy Hughes, Courtney Coppage, Patrick Doerr, Stephanie Turner, Lauryn Workman. Front row: Kobi Brinson, Kate Roselli
Events
We hope you will join us for our upcoming events.
ChiPs Carolinas Chapter discussion regarding the new normal for business attire with Melanie Lippman
Monday, July 18, 2022
12:00 — 1:00 p.m. ET
For more information and registration, click here.
The End of Roe v. Wade: What's at Stake and What Comes Next?
with Kathryn Kolbert who successfully argued Planned Parenthood v. Casey before the United States Supreme Court.
Monday, July 18, 2022
1:00 — 2:15 p.m. ET
For more information and registration, click here.
Winston and the Association of Corporate Counsel (ACC)
will co-host a CLE panel on eDiscovery. This seminar qualifies for 1 hour
of NC Technology CLE.
Tuesday, July 19, 2022
4:30 — 5:30 p.m. ET Seminar
5:30 — 6:30 p.m. ET Cocktail Reception
In-person at our Charlotte office or virtual
For more information and registration, click here.
IN CASE YOU MISSED IT
Winston in Action: Pro Bono
Jack Cobb and Kevin Zhao successfully appealed a pro bono case in Henderson County involving a child living in an unsafe and unsanitary home. The North Carolina Supreme Court agreed with all of the points from Winston's briefing and held that the district court's ruling was supported by clear and convincing evidence.
Winston for Good: Community Service
Nineteen Winston attorneys and staff in the Charlotte office prepared 127 sandwiches and donated a combined $50 per sandwich—raising $6,350 total for Roof Above!
Recent Publications
Danielle Williams, along with colleagues Thomas Walsh and Tyler Boyce, contributed to a recent Waco Watch blog entitled "Judge Albright Denies Motion for Leave to Effect Alternative Service on Foreign Defendants. "
Recent Recognition
Chambers rankings were released, and our entire litigation team in Charlotte was recognized for General Commercial Litigation (NC) and Jack Knight was recognized for White-Collar Crime & Government Investigations (NC).
Danielle Williams and several other Winston Intellectual Property partners were recognized by the 2022 IAM Patent 1000 rankings.
Legal 500 rankings were released, and Jason Bennett was recognized for Commercial Lending (USA) and Jack Knight was recognized for Corporate Investigations and White-Collar Criminal Defense (USA).
Winston & Strawn is proud to be ranked as one of the 50 Best Law Firms for Women by Seramount, which was formerly Working Mother.