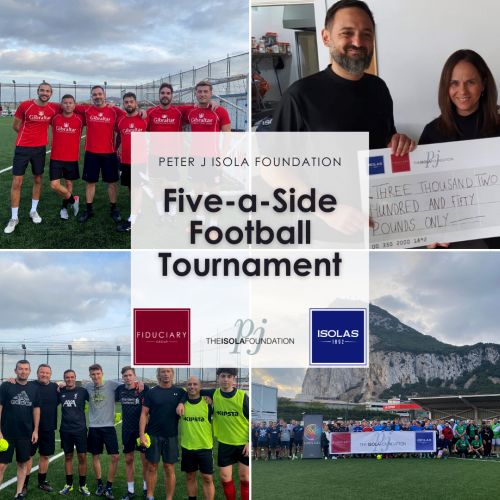 The Peter J Isola Foundation, supported by ISOLAS LLP and Fiduciary Group, held a five-a-side football tournament on Friday 29th October in order to raise funds for the GBC Open Day.
The event was a great success, with a total of 16 companies participating in the tournament.
A £200 registration fee was collected per team, with a cheque for a grand total of £3,250 presented to Jonathan Sacramento by PJI Foundation Trustee, Genevieve Bossino-Soussi.
Congratulations to the winners of the Plate, Kleinwort Hambros, and to Gibraltar International Bank, winners of the Peter J Isola Foundation Tournament.
PJI Foundation Trustee Genevieve Bossino-Soussi said: "We are delighted with the tournament's turnout, and in particular with the amount we were able to raise in aid of the GBC Open Day. A warm thank you to all those who attended — we hope to see you all again next year!"