Law firm Shakespeare Martineau has welcomed three new experts to its residential development team, including partner Kevin Joynes, legal director Fiona Martin and solicitor Joe Davies, located at the firm's Solihull, Stratford and Birmingham hubs, respectively.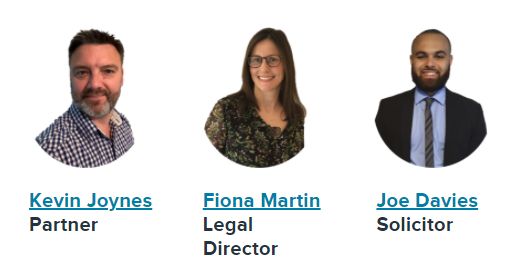 Kevin Joynes has more than 20 years' experience working in private practice as well as client-side during his time as legal director at Bovis Homes. Kevin provides cradle to grave support to developers and land owners, specialising in both immediate and strategic land transactions. With a deep understanding of the entire process, from the cost of bricks, to wider market issues, Kevin also provides strategic advice for developers across the Midlands and nationally.
Strategic development projects specialist Fiona Martin, joins the firm from Wright Hassall. Supporting the entire development life cycle, Fiona acts for clients in the acquisition, promotion and disposal of sites for residential and mixed use developments, with particular expertise supporting private landowners.
Solicitor Joe Davies assists on the disposal and acquisition of sites for residential development. Joe has experience acting for regional developers with a particular focus on disposals to Housing Associations and deals with complex lease transactions from both perspective of tenants and landlords.
Kevin said: "I was attracted to Shakespeare Martineau because of its reputation in the development sector and its positive culture. I'm particularly looking forward to adding my expertise and experience to an already impressive team and, ultimately, to further enhancing our reputation in the residential development sector.
"For me, the most satisfying part of the work I do is working with clients to create desirable homes and communities for people to live and work in. I particularly love seeing completed developments and comparing how the finished article compares with the original ideas and concepts."
Neil Gosling, head of residential development at Shakespeare Martineau said: "Each year we act on the sale of more than 5,000 plots and support clients with buying the land and securing planning permission for tens of thousands of homes.
"We now have more than 50 residential development experts across our national team and with the recruitment of Kevin, Fiona and Joe, continue to build our reputation as a market-leading team. We are working on larger and more complex projects for our clients, many of which have grown over the years and we've supported them on that journey with both legal and strategic advice.
"We're thrilled to welcome Fiona and Joe to the team and delighted to have Kevin join us as partner."
Joanna Deffley partner and head of West Midlands region at Shakespeare Martineau said: "Our West Midlands region and residential development team is growing from strength to strength. While the development market temporarily stalled at the start of the pandemic we've seen it make up for lost time and projects accelerated."
The residential development team appointments follow a raft of announcements including new head of Birmingham Clive Read, and multiple appoints across East Midlands.
Shakespeare Martineau is proactively seeking mergers, acquisitions, team recruitment and lateral hires in the Midlands and nationally.