Opting into a second citizenship is a life altering decision for you and your family, and as such, not to be taken lightly. We encourage you to go over all of the prerequisites and criteria as often as you need to, yet as such, our affiliate law firm of Evangelides & Partners LLC stands by you with one of the largest, most experienced, and knowledgeable investor immigration teams on the island of Cyprus, ready to assist with the application process and all other legal prerequisites related to the Cyprus Investment Programme.
Here you can read more about the Cyprus Investment Programme
With regards to our professional fees, we charge a fixed fee of €40,000 (non-inclusive of VAT and government disbursements), which covers the following services:
Preparation and submission of a citizenship by investment application, including regular follow up during the processing period (up to 4 family members, not including parents of the main applicant). An additional fee of €10,000 will apply for the inclusion of parents of the main applicant.
Legal support with finalizing property investment, including property due diligence (up to 2 properties).
Tax advice, if required, regarding Cyprus sourced rental income (does not include advice connected with relocation to Cyprus and transfer of tax residency, if applicable).
Assistance sourcing property, if required (up to 6 hrs).
Concierge services, if required.
Pre-clearance, if required.
A retainer fee of €20,000 is due upon execution of our Engagement Letter, and the remaining fee of €20,000 (plus any additional time based fees, if any) are due immediately prior to the submission of the citizenship application.
Government Fees and Disbursements
The following is a summary of the applicable government fees and disbursements: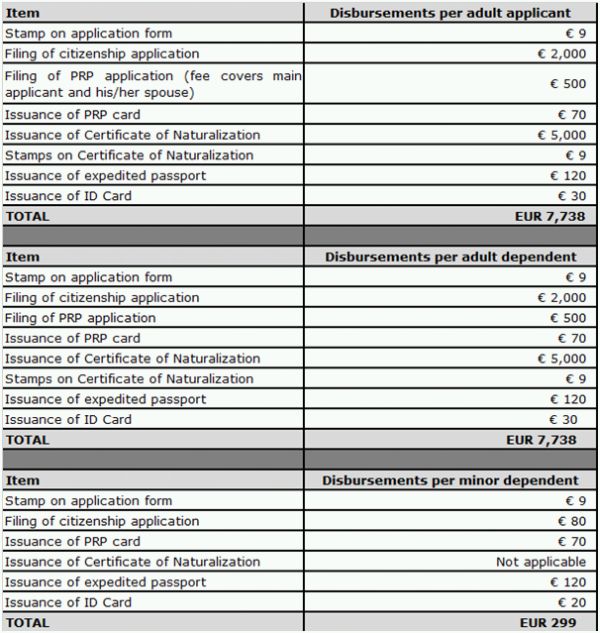 At Savva & Associates we are proud to have the largest investor immigration team in Cyprus, assisting families from all over the world successfully apply for citizenship via the investment route. 
Our team of highly experienced professionals can advise you further on obtaining Cypriot Citizenship by Investment, on the basis of your particular facts and circumstances.