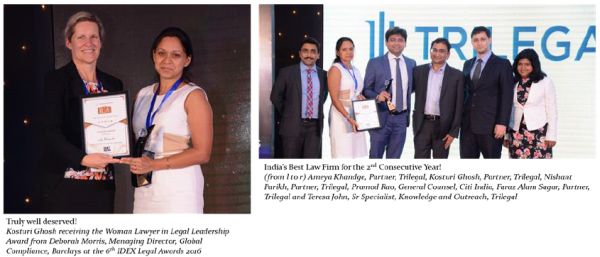 Mumbai/Delhi, India, April 26, 2016: Trilegal, one of India's leading law firms, has been voted the "Best Law Firm (Domestic)" and Trilegal Partner Kosturi Ghosh won the jury award for "Woman in Legal Leadership" at the IDEX Legal Awards 2016, announced recently in Mumbai.
The year 2016 has so far been a fantastic one for Trilegal at the awards. Earlier this month, Chambers and Partners recognized Trilegal as India's "National Law Firm of the Year", Asian Legal Business (part of Thomson Reuters) conferred "Employer of Choice 2016" and this is the second consecutive win as the "Best Law Firm (Domestic)" at IDEX Legal Awards.
The eminent jury which comprised in-house legal authorities and academicians included Mr. Mysore Prasanna, Former General Counsel Aditya Birla Group and Independent Consultant, Mr. Rajeev Uberoi, General Counsel and Group Head Legal & Compliance, IDFC, Mr. Murali Neelakantan, Independent Non-executive Director, TTK Prestige, Ms. Valerie Bowles, Managing Partner, Valerie Bowles Consulting, Mr. Abhijit Mukopadhyay, President Legal, Hinduja Group, Mr. Nick Jarett, Strategy Consultant to Law Firms, Edge International, Mr. Shamnad Basheer, Founder and Managing Trustee IDIA, Mr. Anubhav Kapoor, General Counsel and Company Secretary, Tata Technologies, Mr. Amitabh Lal Das, Director & Head – Legal, Compliance & Regulatory, Max Life Insurance, Mr. Umakanth Varottil, Associate Professor at Faculty of Law, National University of Singapore, Mr. Pramod Rao, General Counsel, Citibank, and Anupam Sharan, Sr. Leadership – Legal, Contracts & Compliance, American Express.