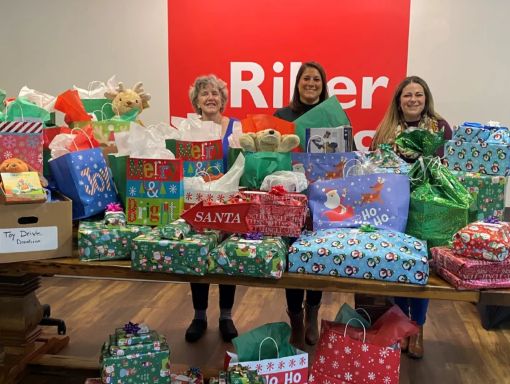 For more than twenty years, Riker Danzig employees have collected toys and other gifts for children to be donated to local charitable organizations during the holiday season. Hundreds of toys were donated this year to be distributed to Cornerstone Family Programs & Morristown Neighborhood House and the Jersey Battered Women's Service (JBWS) to help brighten the holidays for those in need.
Partner Bethany A. Abele once again spearheaded Riker Danzig's Toy Drive team, with able assistance from Director of Library and Research Services Anne Shulman, Associates Kori Pruett and Corey LaBrutto, and Paralegal Silva Dechoyan. In addition to sorting the donations and preparing them for delivery to JBWS, the Toy Drive team also made sure each child from the Neighborhood House classroom adopted by Riker Danzig had a gift from his/her wish list and then wrapped and delivered those gifts.
Riker Danzig was honored this year by the Commerce & Industry Association with a "Companies That Care" award in recognition of the enormous success of our annual Toy Drive. The award was presented in CIANJ's "Caring for Children" category.
Photo Caption (from left): Riker Danzig's Director of Library and Research Services Anne Shulman, Partner Bethany A. Abele and Associate Kori Pruett display toys collected for the Firm's Annual Toy Drive before distributing to local charities.