European Union

: Brexit: Turning Luxembourg Remuneration Rumours Into Facts
Last Updated: 19 January 2018

Article by Roxane Filippa



Most Read Contributor in Luxembourg, June 2018
For companies considering relocating to the EU, local remuneration practices are, naturally, an important factor. Luxembourg is well-known for offering highly flexible remuneration packages. But what exactly does the term remuneration package entail?
In Luxembourg, a remuneration package comprises three elements: base salary (fixed salary), variable salary (e.g. performance bonus, sales bonus), and fringe benefits (e.g. company car, meal allowance). The graphs below show, for both financial and non-financial sectors, the proportions of these elements within the remuneration packages of management, middle management, and staff members.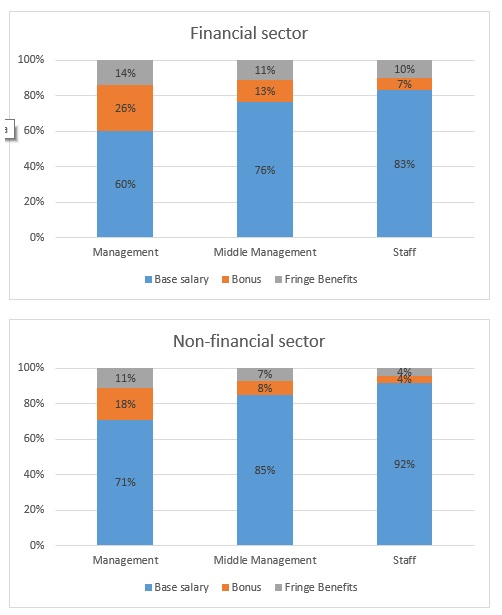 Sources: KPMG Remuneration Survey for the financial sector / non-financial sector
Although the figures vary slightly, a trend is shared in both sectors: the higher the grade of the employee, the more imp
Register for Access and our Free Biweekly Alert for
This service is completely free. Access 250,000 archived articles from 100+ countries and get a personalised email twice a week covering developments (and yes, our lawyers like to think you've read our Disclaimer).
Some comments from our readers…
"The articles are extremely timely and highly applicable"
"I often find critical information not available elsewhere"
"As in-house counsel, Mondaq's service is of great value"
Mondaq Advice Centre (MACs)
Up-coming Events Search
Tools