Chile's central grid operator CDEC-SIC launched a tender for three transmission projects requiring an estimated US$192mn in investment.
The first project entails the installation of transformer banks at the Nueva Cardones, Nueva Maitencillo and Nueva Pan de Azúcar substations, and would require US$72.5mn, according to the official bidding reference terms.
The second project, requiring an estimated US$107mn in investment, comprises a 2x220kV transmission line connecting the Nueva Maitencillo, Punta Colorada and Nueva Pan de Azúcar substations.
The third and final project, requiring US$12.8mn in investment, is for the construction of the Nueva Lampa substation.
CDEC-SIC will accept economic and technical offers between January 6 and January 11, 2017.
Projects are scheduled to be awarded on March 14, 2017, with construction expected to start in April 2017.
Projects are meant to strengthen the trunk system of the central SIC power grid ahead of its interconnection with the northern SING grid.
Official bidding reference terms (in Spanish) can be found here.
Harris Gomez Group can assist foreign companies that are interested with reviewing the reference terms among other legal matters that would arise. Our Business Advisory is also available to assist with the commercial aspects.
Project Overview –  SING-SIC Interconnection Transmission Line
The project involves the construction of a 610km transmission line that would connect Chile's central SIC and northern SING grids. The line will connect the SIC's Cardones substation in Atacama region (III) to a new substation that will be built near the SING's Encuentro substation in Antofagasta region (II). The project is being developed by Transmisora del Norte S.A., a unit of E-CL, a Chilean subsidiary of France's ENGIE
The project is critical to the Chilean energy market as it will allow the influx of solar energy brought on line over the past few years to reach energy market facilitating stronger prices for energy producers.
Investment: USD$860 Million´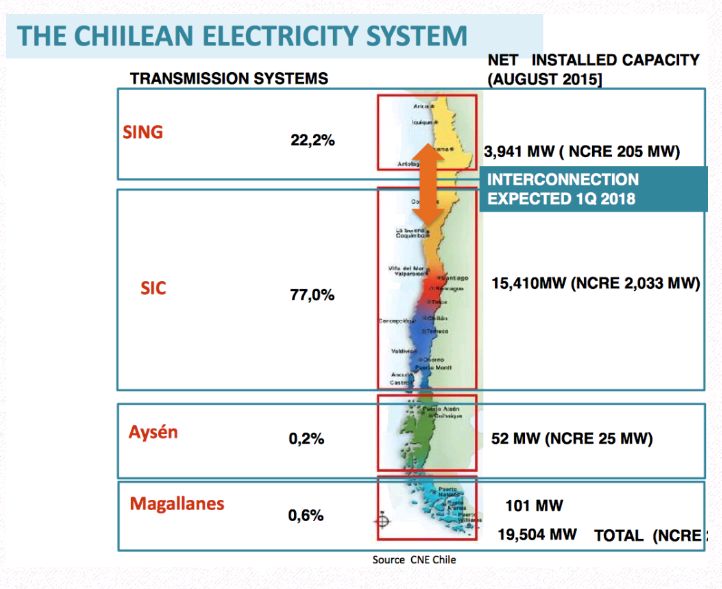 The content of this article is intended to provide a general guide to the subject matter. Specialist advice should be sought about your specific circumstances.