David Whitestone is a Partner, Michael Friedberg and Shawna Watley are Senior Policy Advisors and Eric Lee is an Associate in Holland & Knight's Washington D.C. office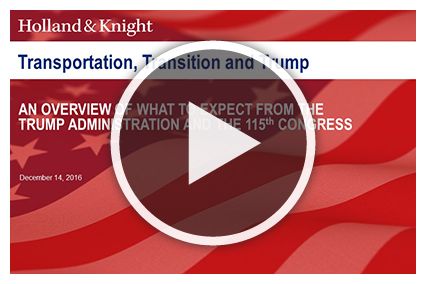 On November 30, Holland & Knight presented an overview of what to expect from the Trump Administration and the 115th Congress. As a follow-up presentation, this webinar takes a deeper look into the expected impact on transportation and infrastructure. Our lawyers and senior policy advisors provide analysis ahead of what is sure to be a year of change and historical importance.
Agenda
What We Know
Infrastructure & Financing
Congressional Perspective
Aviation Issues
Maritime Issues
Rail Issues
Motor Carrier Issues
Rules/Regulations Ripe for Review
The content of this article is intended to provide a general guide to the subject matter. Specialist advice should be sought about your specific circumstances.