U.S. Citizenship and Immigration Services (USCIS) and Department of State (DOS) have revised the procedures for determining when an individual may file documentation for permanent residence in employment- and family-preference categories in accordance with the November 2014 executive actions on immigration, published in Modernizing and Streamlining Our Legal Immigration System for the 21st Century (July 2015) (available here).
Each month, DOS publishes immigrant visa availability date charts on its website (www.travel.state.gov) for the employment- and family-preference visa categories, which can be used to determine when to file an I-485 Adjustment of Status (i.e., green card) or Immigrant Visa application. Beginning with the October Visa Bulletin, DOS will publish an additional chart for each visa category indicating whether the application can be filed in advance of the current availability date. Below are the October employment-based charts:
"Application Final Action Dates" chart (dates when visas/green cards may finally be issued – this is the chart that has historically been published)
"Dates for Filing Applications" chart (earliest dates when applicants are eligible to apply – this is the new chart)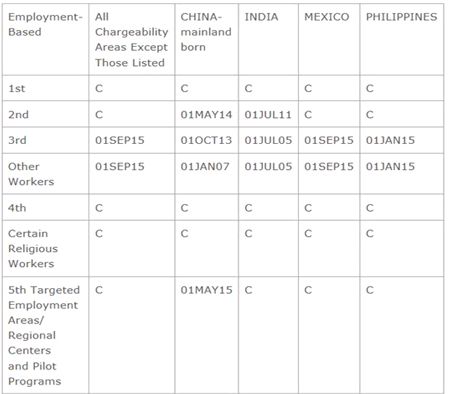 For filing purposes, the "Dates for Filing Applications" chart may be used to determine whether an I-485 application or Immigrant Visa application may be filed, which shows earlier filing dates than the "Application Final Action Dates" chart. For example, Chinese nationals in the Employment-Based Second (EB-2) Preference category with a priority date before May 1, 2014 may file an I-485 application in the month of October; however, they will not receive final adjudication of their application until their priority date is also earlier than the cut-off date in the "Application Final Action Dates" chart, which is January 1, 2012 in the October Visa Bulletin. Note that the new Filing Date chart permits Chinese- and Indian-born nationals in the EB-2 category to file 2 years and 6 years earlier than would have been previously allowed. When filing an I-485 application, the applicant may also file for employment and travel documents.
Keep in mind these applications could be pending for years waiting for the Final Action Date, and the increase in the number of applicants filing adjustment applications will likely lead to an increase in processing time. For this reason, whether to include with the I-485 a medical examination that will expire in one year should be evaluated on a case-by-case basis.
The content of this article is intended to provide a general guide to the subject matter. Specialist advice should be sought about your specific circumstances.