United States

: Top 9 Tips To Make Your Deposition Less Stressful
Technology to transcribe depositions has slightly improved since this photo was taken. Slightly.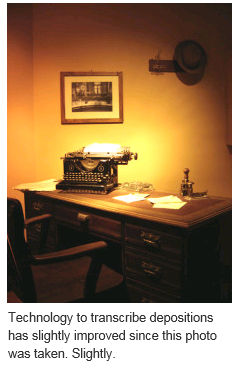 A deposition is a commonly used discovery device in many divorce cases. Many people are nervous or even afraid of being deposed. Follow these nine tips to help relieve some of the anxiety surrounding a deposition.
A deposition calls for a witness (often, but not always, one of the parties) to give oral testimony under oath before trial. Depositions are conducted in front of a court reporter and are then reduced to a transcript. Transcripts are often admitted into evidence at trial, where they may be used to either strengthen or dispute the testimony offered.
As a family law attorney, I use depos
Register for Access and our Free Biweekly Alert for
This service is completely free. Access 250,000 archived articles from 100+ countries and get a personalised email twice a week covering developments (and yes, our lawyers like to think you've read our Disclaimer).
In association with

Mondaq Advice Center (MACs)
Related Video
Up-coming Events Search
Tools