On August 11, 2014, the ownership group for the Toronto Blue Jays, Rogers Blue Jays Partnership, filed a  Notice of Opposition with the Trademark Trial and Appeal Board of the United States Patent and Trademark Office, opposing the registration of Creighton University's redesigned Bluejay logo.
On September 18, 2013, Creighton filed a trademark application with the USPTO for the new logo, described as a "stylized capital C with the head of a bird placed over top of the letter C," to appear on shirts, pants, jackets, footwear, hats and caps, and athletic uniforms. As depicted in the logo evolution below prepared by Creighton fan site, White and Blue Review, the new logo is quite a departure from 1972 iteration, which resembles a surly, hand-drawn Peanuts character:
 Toronto apparently believes that the new Creighton logo hits too close to home, with its "thick, clean lines and outline with no gradient or shading," which "results in a bold, two-dimensional mark" that is substantially similar in design to the Toronto Blue Jays recently-refreshed logo:
This isn't the first time Toronto has sought to protect its trademark against a college/university.  In 2001 and 2002, Toronto opposed (or threatened to oppose) an attempt by my alma mater, Elizabethtown College, to register its flying jay and fighting jay marks, depicted below in all their black and white, pixelated glory: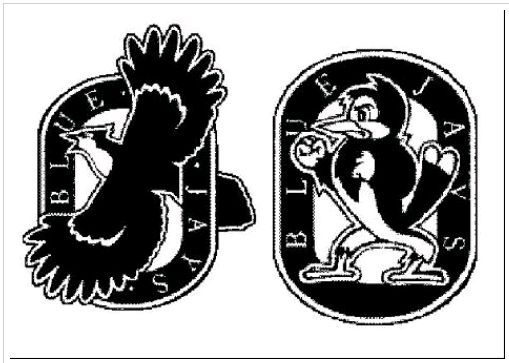 (Elizabethtown has since adopted a much cooler and far-more aggressive representation of the otherwise harmless acorn-eating Corvidae.)
In fact, Toronto has filed or threatened approximately a dozen trademark oppositions since 2000, including a joint effort with the Tampa Bay Rays baseball club in 2010 to prevent a Virginia-based entertainment vendor known as "Ray Jay's" from using this iconic mark for the following highly-specialized and succinctly-stated business purpose:
Amusement arcades; Arranging and conducting nightclub entertainment events; Arranging and conducting special events for social entertainment purposes; Arranging, organizing, conducting, and hosting social entertainment events; Booking of entertainment halls; Bowling alleys; Children's entertainment and amusement centers, namely, interactive play areas; Entertainment in the nature of a bicycle park; Entertainment in the nature of baseball games; Entertainment in the nature of basketball games; Entertainment in the nature of hockey games; Entertainment in the nature of laser shows; Entertainment in the nature of light shows; Entertainment in the nature of roller skating competitions; Entertainment services in the nature of providing outdoor facilities for playing paintball; Entertainment services, namely, a video arcade housed in a mobile trailer; Entertainment services, namely, conducting contests; Entertainment services, namely, conducting parties; Ice skating instruction; Leasing of figure skating equipment; Movie theaters; Organisation and provision of sports installations for figure and speed skating championships; Organising and holding figure and speed skating championships and competitions; Organizing and conducting a bowling event the proceeds of which are donated to charity; Providing bowling alleys; Providing children's party centers for the purpose of entertaining children and celebrating birthdays; Providing facilities for movies, shows, plays, music or educational training; Providing facilities for playing paintball games; Providing skating rinks; Rental of roller skates; Rental of skates; Roller skating instruction; Roller skating rinks; Video arcade services
Ray Jay's abandoned the ship approximately two years after filing its application.
The content of this article is intended to provide a general guide to the subject matter. Specialist advice should be sought about your specific circumstances.