Merely the cost of doing business? Governments and regulators certainly hope not. It's been another big year for bank penalties – and we are only half way through.  On 20 May 2015, record fines of £3.6bn were levied on six of the world's largest banks for charges including manipulating the foreign exchange market.  We have analysed the annual reports of 14 major European banks1  in an attempt to understand more fully the drivers and trends of bank legal costs. 
Overall trend in legal provisions 
The chart below shows the increasing overall trend in legal provisions since 20072 :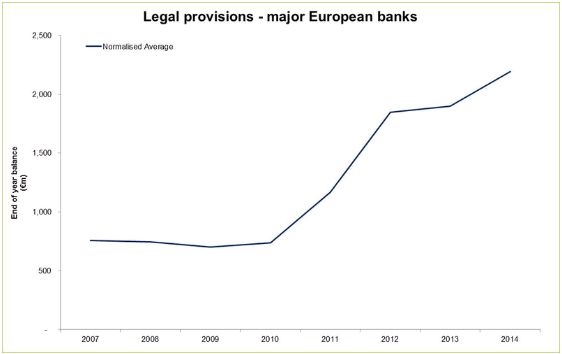 The disclosures in the financial accounts provide further information about the recent issues driving these costs, with the topic of product mis-selling leading the way:
The UK banks in particular have seen a sharp increase in legal costs when compared to their Eurozone counterparts:
Our analysis prompted a number of questions: (i) Why have UK banks been more affected? (ii) Are the banks fully provided or is there more to come? and, (iii) How are banks responding?
(i) Why have UK banks been more affected?
To date, the regulatory scrutiny of UK banks' wholesale and retail divisions has been more intense and wide-ranging than elsewhere. A key issue has been the scale of product mis-selling investigations in the UK, such as the alleged mis-selling of PPI to retail mortgage customers and interest-rate hedging products to SMEs. In wholesale markets, the recent financial benchmark manipulation and conduct investigations have a strong UK focus as a result of the importance of these markets (e.g. FX) and financial benchmarks (e.g. LIBOR) to London.
It is not just the regulators who have been acting with force - our review of UK bank narrative disclosures indicates an increase in disclosure related to counterparty disputes since 2009 (compared with 2007 and 2008). Many civil disputes have been given added impetus by the new financial world order in which banks' actions are held to account in an unprecedented way. These cases tend to be high profile, complex and potentially very costly for the banks with millions, if not billions, of pounds in dispute.
(ii) Are the banks out of the woods?
These recent fines are unlikely to be the end of the story for the banks. As part of the recent foreign exchange manipulation settlement with prosecutors, some of the fined banks must send disclosure notices to all of their clients and counterparties who may have been affected by the sales and trading practices described in their plea agreements. Litigators are predicting that this could lead to a flood of civil action from disgruntled former counterparties.
European regulators have already demonstrated that they will take action, such as the Comisión Nacional del Mercado de Valores' investigation into the sale of hybrid debt products to retail investors in Spain, and PPI investigations in a number of other European countries. New investor protection rules will be introduced at the EU level through the revisions to the Markets in Financial Instruments Directive (MiFID II) and Insurance Mediation Directive (IMD II) and the introduction of a Regulation on Packaged Retail and Insurance-based Investment Products (PRIIPs), and the European Supervisory Authorities and National Competition Authorities are due to get product intervention powers akin to the FCA.
Wholesale activities will also remain in the spotlight, with the Fair and Effective Markets Review final recommendations noting that regulators should focus on forward-looking supervisory strategies and 'early intervention' actions in areas where there is the potential for misconduct to arise (see our blog for further details).
(iii) How are the banks responding?
It seems UK and Eurozone banks need to continue to provide for civil law suits and regulator action for a number of years. Thankfully, for government and regulators, these legal issues are not simply the cost of doing business. The banks are responding with a continued focus on improving culture and customer treatment, as well as ensuring they can produce reliable and meaningful data to monitor activities, respond to regulator questions and spot the emerging risks to their business.
Financial Services disputes
The Financial Services Disputes team is a multi-disciplinary team of Forensic Accounting, Financial Services and Information Technology professionals. Our team has significant specific financial services disputes experience and our work has ranged from assisting clients when assessing the commercial and financial merits of any potential legal claim, through to providing full litigation support and expert witness services.
Footnotes
1 Analysis is presented for those banks with assets greater than €1trn where sufficient detail was provided in respect of legal provisions. Where relevant, the figures have been adjusted to remove legal provisions in respect of on-going tax and employment issues.
2 This analysis has been produced on a "normalised" basis, removing the largest and smallest provisions from the analysis each year.
The content of this article is intended to provide a general guide to the subject matter. Specialist advice should be sought about your specific circumstances.