UK

: Banking: The Drivers Of Legal Issues

Merely the cost of doing business? Governments and regulators certainly hope not. It's been another big year for bank penalties – and we are only half way through.  On 20 May 2015, record fines of £3.6bn were levied on six of the world's largest banks for charges including manipulating the foreign exchange market.  We have analysed the annual reports of 14 major European banks1  in an attempt to understand more fully the drivers and trends of bank legal costs. 
Overall trend in legal provisions 
The chart below shows the increasing overall trend in legal provisions since 20072 :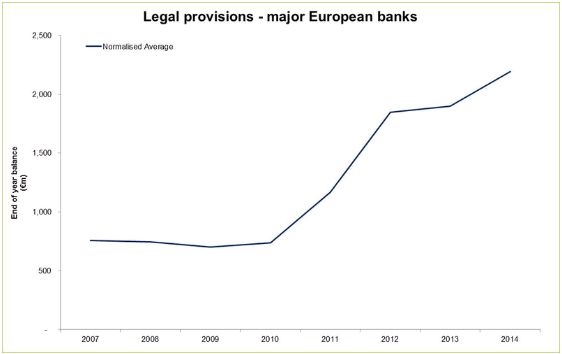 The disclosures in the financial accounts provide further information about the recent issues driving these costs, with the topic of product mis-selling leading the way:
Register for Access and our Free Biweekly Alert for
This service is completely free. Access 250,000 archived articles from 100+ countries and get a personalised email twice a week covering developments (and yes, our lawyers like to think you've read our Disclaimer).
In association with
Mondaq Advice Centre (MACs)
Related Video
Up-coming Events Search
Tools