Summary and implications Governments have been critical of the interaction between shareholders and companies for some time, particularly since the onset of the financial crisis. One of the concerns of institutional shareholders has been that they could be inadvertently seen as "acting in concert" if they co-ordinated their views with other shareholders.
In response to these concerns, the European Securities and Markets Authority (ESMA) has published a "White List" of actions which the national competent authorities in the EU (including the UK Takeover Panel) have agreed will not, of themselves, lead to shareholders being regarded as acting in concert. The "White List" of safe activities on which shareholders may co-operate includes:
discussing matters to raise with the company's board;
discussing policies, practices or particular actions which the company might take with the company;
adding agenda items or proposing resolutions for a shareholders meeting, or calling a shareholders' meeting; and
agreeing on how they will vote on resolutions at shareholders' meetings on ordinary course transactions (see below) or agreeing to vote against a related party transaction.
The "White List" specifically excludes discussions relating to the appointment or removal of a director as this is treated differently in each member state, though ESMA has issued guidance on what the EU national competent authorities will take into account when considering collective shareholder action regarding board appointments (such as any relationship between the shareholders and appointee, the number of directors affected relative to the size of the board and the relevant shareholders' history of acting together.
It remains to be seen whether this guidance will encourage greater co-ordination between institutional shareholders in how they engage with investee companies. While it is helpful to have this guidance (and a more common position across the EU), shareholders will need to remain alert to carrying on their cooperation to such a point that there are other factors which indicate that, despite an action being included in the "White List", the parties have started acting in a way which tends more to them acting in concert.
Given that most shareholders believe that their ultimate leverage over a company is the ability to remove and replace directors, the lack of a clear position across Europe is somewhat disappointing. The ESMA statement does however, at least, include a useful summary of the current positions of the different national competent authorities in this area.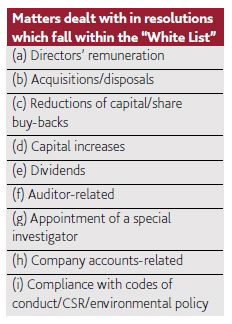 The content of this article is intended to provide a general guide to the subject matter. Specialist advice should be sought about your specific circumstances.