Regulatory Risks and Enforcement Update
Regulatory risks
Recent years have seen a sustained and highly visible increase in enforcement activity by the FSA, as it continues to pursue its credible deterrence strategy. That strategy involves taking tough, targeted and effective public enforcement action against non-compliant firms and individuals as a way of changing behaviours across the financial services industry. The UK's new regulatory structure, including the transfer of the FSA's Enforcement and Financial Crime Division to the Financial Conduct Authority ("FCA"), will only further the emphasis on enforcement with confirmation that the agenda of credible deterrence will remain central to the FCA's enforcement approach. This all means that your firm and its management and staff need to be increasingly vigilant to avoid falling foul of the regulator.
Recent public statements underline the regulator's determination to ensure effective enforcement:
"The job of enforcement is to help the FSA change behaviour by making it clear that there are real and meaningful consequences for those firms or individuals who don't play by the rules"
"We have been clear with industry that we have the resources and commitment to follow through with meaningful sanctions"
The potential business, operational and reputational risks faced by your firm need to be owned by the individuals in charge. Individuals exercising actual control and influence over the firm's business have to take responsibility for how the business is run. Effective enforcement is here to stay, and your firm's management and staff must therefore be confident that they understand, and comply with, their regulatory responsibilities.
Key current enforcement measures
Continued focus on senior management – looking at competence as well as probity
Application of the new tougher penalties regime – record fines for individuals and firms with approximately £92m in fines handed down in 2012 (not including LIBOR-related fines of almost £220m)
Ongoing clampdown on market abuse and insider dealing – successful criminal prosecutions and the highest ever fine for an individual (handed down in 2011 to Rameshkumar Goenka)
Publication of Decision Notices – adverse findings by the FSA made publicly available even where those findings are under appeal (and earlier publication of Warning Notices)
Likely future developments
Low tolerance for repeat offenders – firms that constantly bump along the bottom
Increased early interventions or "pre-emptive strikes" – pro-active approach by regulator
Use of new tools – such as a power to make rules to ban products on a temporary or permanent basis
The FSA's new penalties regime in practice: could it happen to you?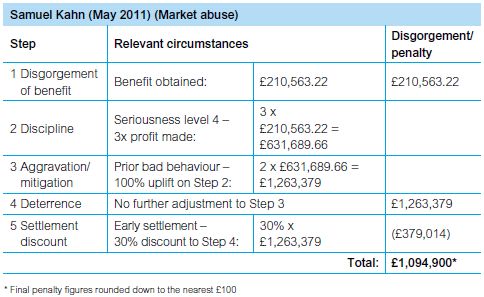 Would the regulator give your firm a clean bill of health?
Are you ready for a visit from the regulator?
Have you assessed all the roles and responsibilities within your firm?
Are your management and staff aware of the risks for them personally?
Can you afford to lose your reputation, a substantial part of your income, or even your livelihood?
How can we help?
Review your systems, policies and procedures
Advise on individuals' roles and responsibilities
Educate your staff though bespoke training
Guide you through the difficult process of an FSA enquiry/investigation
Our contentious regulatory practice
Our contentious regulatory practice comprises individuals from each of the firm's well-established and highly regarded Dispute Resolution, Financial Services and Finance groups. Examples of recent instructions undertaken by the practice include:
Representing a star hedge fund manager in an FSA investigation into regulatory breaches
Advising a privately owned financial services group in respect of FSA investigation matters following the collapse of the Arch cru funds
Assisting a leading mid-market investment firm on a broad range of regulatory matters including appointed sponsor issues and documenting a new product offering involving a portfolio of derivatives
Advising a top market maker firm subsequent to the arrest of its founder and chairman
Acting for a leading bank in relation to an FSA investigation into the conduct of a placing in which the bank and another bank were joint brokers and book runners
Advising an FSA-registered securities brokerage on issues concerning an appointed representative and allegations of misappropriation or diversion of fees and illegal trading accounts
Representing a trading platform in connection with an FSA investigation into transaction reporting failures
Representing an individual in connection with an FSA investigation into potential issues of market abuse as a result of stock building prior to a public bid
The content of this article is intended to provide a general guide to the subject matter. Specialist advice should be sought about your specific circumstances.