UK

: Generic Opportunities Arising For The Blockbuster Antihypertensive, Diovan® (Valsartan)

Valsartan, an angiotensin II receptor antagonist, developed by Novartis and marketed as its flagship-product, is sold under the brand name Diovan. Labelled the "world's number-one selling high blood pressure medication", Diovan accounted for US $6 billion in sales worldwide in 20091. With patent protection on its active ingredient due to expire in most major territories in the near future, this month's Drug In Focus analyses the patent landscape surrounding Valsartan based on information contained in GenericsWeb's Pipeline Selector report.
Table 1: Valsartan General Information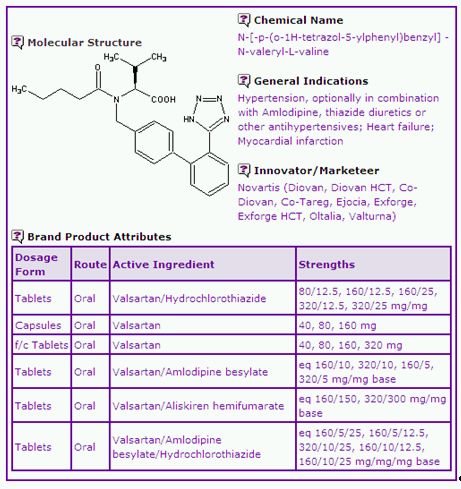 The Valsartan General Information (Table 1) shows that there are two dosage forms containing the single active compound and three dosage forms containing a combination of Valsartan with one or more other active ingredients. The single-active dosage form is indicated for hype
Register for Access and our Free Biweekly Alert for
This service is completely free. Access 250,000 archived articles from 100+ countries and get a personalised email twice a week covering developments (and yes, our lawyers like to think you've read our Disclaimer).
In association with
Mondaq Advice Centre (MACs)
Related Video
Up-coming Events Search
Tools