We examine the results of our 16th annual survey of the legal sector.
Results from our survey of 126 of the UK's top law firms show that business confidence has risen slightly since last year. Although experience is mixed and competition for work remains high, 64% of respondents report that they are confident about the next 12 months.
Six in ten firms cited the economy as the issue of greatest concern. This is closely followed by pressure on fees, which is a worry for half the participants. These statistics are similar to last year.
On a brighter note, fewer respondents are worried by a fall in demand for their services (down from 30% last year to 15% this year). Although cashflow issues are still causing difficulties for a quarter of the firms surveyed, this is down from 40% last year.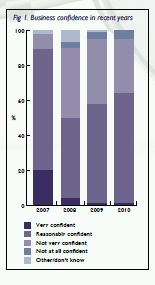 Tax and finance
Living with higher tax rates has undoubtedly encouraged many firms to look at tax planning opportunities. For example, more than six in ten firms are either introducing a service company or considering it (as shown in Figure 2).
General cost cutting measures have also been widely applied. Seven in ten firms have cut staff costs while almost a fifth have closed or are closing offices. Last year, just one in ten firms had closed an office. Given that four in ten practices have reorganised their management structure, the effects will have been felt right the way through from junior staff to the top.
While personnel represents the highest single cost for all law firms, only a relatively small proportion have used outsourcing as a way of minimising costs. A slightly larger number say they are considering this option. However, more than four in ten firms have centralised functions and about two in ten are looking into this.
M&A interest holds strong
Merger activity within the legal sector remains a hot topic and around threequarters of respondents anticipate an increase. A number of participants commented that the sector is ripe for consolidation, particularly at the 'silver' level and they suggest that the merger activity expected last year may yet occur. Certainly, informal conversations at a senior level between potential merger partners appear to be common.
Given the perceived difficulties associated with such mergers, interest in acquiring 'bolt-on' teams is huge. Indeed, more than eight in ten respondents said they would consider acquiring a practice area from another firm. Four in ten of those we questioned had acquired a 'bolt-on' team in the last year, with a handful of businesses acquiring more than two new teams.
There has been a slight fall in the number of 'failed' negotiations: last year 19% of attempted M&A negotiations didn't come to fruition, while this year 14% hit the buffers. 'Cultural differences' were cited as the principal reason for not meeting the expected level of M&As shown in the last few years' surveys.
Legal Services Act
Next year, under the Legal Services Act, law firms will be able to merge with other professions and raise external capital.
About three-quarters of respondents expect firms from different professions to join forces and there is now widespread acceptance that some law firms will seek to increase financial resources through private equity funding and potentially an IPO.
Indeed, about one in six (16% of our 126 respondents) consider it 'very likely' or 'likely' that they will look to raise external finance in the next five years. The private equity route appeals to more firms than an IPO, perhaps reflecting that practices are typically looking to raise Ł20m or less.
Smith & Williamson's 16th annual survey of the legal sector explored issues and trends affecting law firms and the legal market. Of the UK's top 230 law firms, 126 took part – including 63 of the top 100, and 4 of the top 10. Practices were represented by their managing partners, finance directors or similar

The content of this article is intended to provide a general guide to the subject matter. Specialist advice should be sought about your specific circumstances.