The number of IP filings in Russia has grown over the last two years despite the impact of the country's stalling economy in 2015, new research indicates.  Analysis by Rouse reveals IP filings across all rights categories – inventions, utility models, designs, and trade marks – grew by 1.1% per year from 2010 to 2015, despite a fluctuating economy that dived 35% in 2015 due to plummeting oil prices.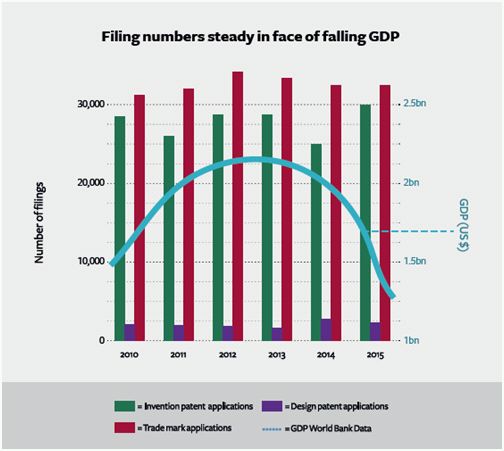 With the number of invention patent filings increasing, the research suggests the country is succeeding in diversifying the Russian economy away from a reliance on fuel exports, towards heightened levels of innovation output comparable with Western nations.  Diversifying Russia's export economy remains one of Moscow's key political aims, with fuel exports as a percentage of all merchandise exports falling on average 4% year-on-year since 2012, when they represented some 70% of Russia's entire export catalogue.
High technology exports have grown on average 12% per year during the same period, amidst attempts to create a more competitive technology landscape domestically.  "The Russian economy is being shifted strategically, albeit from a relatively low starting position, to higher up the innovation value chain", said Andrey Cherkasov, Trademark Attorney at Rouse. "The implications are clear for global manufacturers seeking growth in emerging markets".
Following a dip in 2014, 2015 saw a 13% increase in invention patent applications. Though domestic applications represent nearly two-thirds of all applications filed and granted, the number of non-Russian applications has grown 18% since 2010, suggesting growing confidence among foreign manufacturers.
"We expect overall IP filing numbers to correlate with the wider health of an economy and grow in line with GDP – as Russian filings did from 2010.  What is encouraging is to see these numbers remaining resilient despite 2015's relative economic decline", commented Andrey Cherkasov.
The content of this article is intended to provide a general guide to the subject matter. Specialist advice should be sought about your specific circumstances.