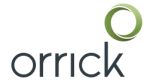 Italy

: Il Decreto Sul Credito D'imposta Per Enti E Fondi Previdenziali

La presente newsletter analizza il Decreto del Ministro dell'Economia e delle Finanze 19 giugno 2015 (pubblicato in Gazzetta Ufficiale n. 175 del 30 luglio 2015) (di seguito, il

Register for Access and our Free Biweekly Alert for

This service is completely free. Access 250,000 archived articles from 100+ countries and get a personalised email twice a week covering developments (and yes, our lawyers like to think you've read our Disclaimer).

Events from this Firm

26 Jun 2018, Other, New York,

United States

Please join professionals from all facets of the Public Finance industry (issuers, borrowers, bankers, financial advisors, etc.) along with Orrick's Public Finance Group for an evening celebrating diversity in the profession and Orrick's reaching a diversity milestone of 51% diversity in its public finance group.

27 Jun 2018, Webinar, New York,

United States

Global Head of Diversity & Inclusion, Joi Bourgeois, will be a panelist during an interactive, live webcast examining the issues of diversity and elimination of bias in corporate legal departments and law firms.

27 Jun 2018, Webinar, New York,

United States

Join our Global Employment Law Team for their firsthand observations on hot topics in 2018 affecting multinationals – from remote working to pay gap reporting and the gig economy.
Some comments from our readers…
"The articles are extremely timely and highly applicable"
"I often find critical information not available elsewhere"
"As in-house counsel, Mondaq's service is of great value"
Mondaq Advice Centre (MACs)
Up-coming Events Search
Tools