Welcome back to another issue of Hopaganda!
This week, NASA announced that they have discovered a new solar system, named Trappist-1. This newly discovered system, only 39 light years (or 200,000 years travel time) away from our own solar system, hosts at least 3 planets that orbit within the 'habitable' range for oceans to be present on the surface.
Thomas Zurbuchen, associate administrator of Nasa's Science Mission Directorate, told a press conference in Washington: "This gives us a hint that finding a second Earth is not a matter of 'if', but 'when'."
NASA also released custom artwork to show what the view would be like living in the Trappist-1 solar system. To have a look, click here.
While this is all good and great, all I keep thinking of, is...
A long time ago, in a galaxy far, far away...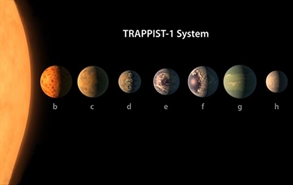 News & Recent Matters
End of the Supreme Court Proceedings in Baden Clay
This week saw the end of the Supreme Court's proceedings over the the Baden Clay estate. HopgoodGanim has been helping pro bono to transfer the estate into the grandparents name. This ensures the children are looked after in the future.
The girls will end up with around $350,000 each, allowing them to afford school, university, a house deposit and some savings. It can't make up for the loss of their mother in the horrible way it came about, but after 5 years, the case is at a point where it is now set in stone and the family have certainty on the financial side.
HopgoodGanim took no legal fees for this case, ensuring all the money would remain with the girls.
An honourable mention must go out to our own Paul Betros, Greg Cox, Tim Edwards, Nastassia Tognini in Estate and Insolvency, Freda Wigan, Lisa Lahey and Sarah Basso from Family, as well as Justin Byrne in Taxation for their hard work over the last few years.
To see the Channel 9 news report, click here.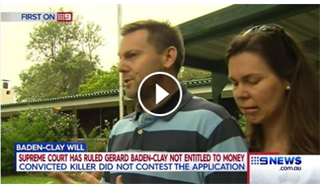 On the job
Nicole Gittins and Tracey Rundle attended our client Gurner's FV development site at Fortitude Valley for what Nicole called an exciting excursion earlier this week. While Tracey is speaking with client, Tim Gurner, it seems Nicole couldn't resist a quick selfie.
Once upon a time in China
While not all of us managed to get out of the office this week, Bruce and Trent have travelled abroad to spread the good word of HG in the Chinese city of Jinan. While having time to take in some sites of the SinoTruck museum, as well as around the city, word is that Bruce and Trent have spent countless enjoyable hours in their hotel room after the official part of the day has finished, playing with the toy trucks they received from one of their many generous hosts (see photo #2).
| | |
| --- | --- |
| Taking in the sites at the SinoTruck Museum | "Trent and I receiving our trucks from SinoTruck. It was truckin brilliant." |
| | This is the SinoTruck building which apparently is shaped exactly like their logo!! |
Alerts, Blogs & LinkedIn Pulse
Upcoming Events
HG Social Calendar 2017 - Updated with Perth dates!
Download the updated 2017 social events calendar with the updated Perth events included!
Click the picture below to download the calendar or click here.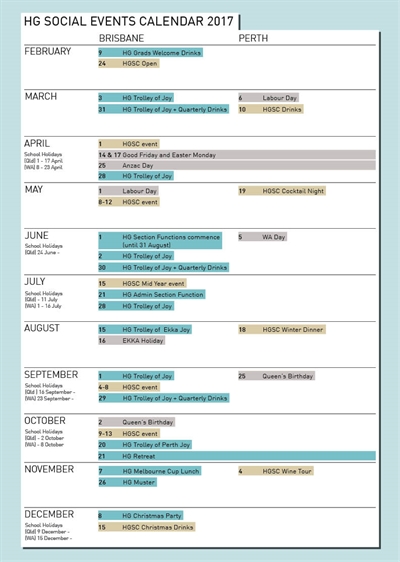 RACQ International Women's Day Fun Run
Registrations are open for the RACQ International Women's Day Fun Run on Sunday 5 March 2017. This sell-out event promises to be bigger than ever in 2017 with a new 10km inner city loop.
By signing up, you can be part of Brisbane's biggest celebration of women, while raising vital funds for practical breast cancer support services and breast cancer research at Mater. For more info visit www.womensdayfunrun.com.au
Limited spots are available, email our events coordinator Lucy Rush to register.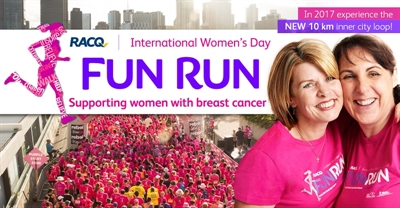 2017 Australian Corporate Triathlon
Challenge your colleagues at the 2017 Australian Corporate Triathlon on Saturday 29 April.
With over 10,000 participants representing 700 different corporate organisations, each team member will complete a 400m swim, a 10km cycle and a 4km run.
Take your health and wellbeing to new levels. Email Lucy Rush to register now.
For more information visit www.corporatetriathlonseries.com.au

Climb for Cancer- Fast Four
HopgoodGanim have taken the title of the fastest corporate team in the past five years. In 2016, Michele and Luke's team had the combined time of 22 minutes and 55 seconds (average time of 5 minutes and 55 seconds per participant). Join them or try and beat them on 28 May to raise vital funds for cancer research.
Visit www.climbforcancer.org.au for details and email Lucy Rush to sign up.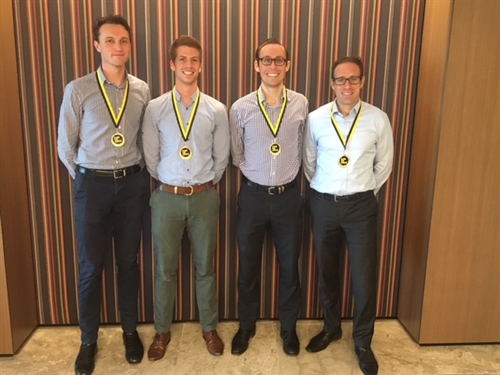 HG Social Club Members Ping Pong Open - Tonight!
Competition is heating up for this one, and it looks to be a fierce evening of competition tonight. Hope to see you there!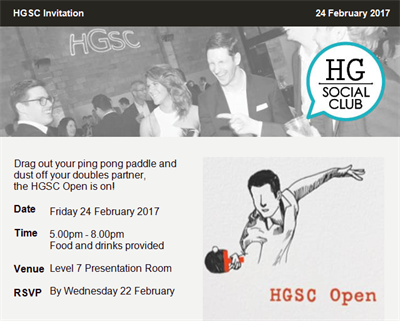 HG Basketball Team
HG have entered a basketball team into the Brisbane City Indoor Sports complex league at Newmarket.

The competition is a "street ball" 4 on 4 competition on Tuesday nights.

If anyone is interested in playing, please contact Kim Hinton for further details.
Knowledge Management
New Promotional Videos
We've recently completed the first two promotional videos for our new content strategy.
Alex Moles:
In January, Alex filmed the firm's first profile video. The video appears on the HG website on Alex's profile. These videos are an important way for potential clients to get to know Alex before choosing her as their lawyer. A video can help a potential client to connect on an emotional level with Alex which is important in the Family Law service. We will continue to film these profile videos throughout the year. Please feel free to share Alex's profile page with anyone you know. View Alex's video here.
Billy Young:
Last week we shot some new recruitment videos and the first one finished is with Billy Young for our Graduate Program. Billy's video is in the process of being put up on the HG website in time for the vacation clerk recruitment season. The video will also be shared through our social media accounts. These videos were shot without scripting and in a casual interview style. If you know someone applying for vacation clerk roles or someone studying law, feel free to share the video with them.
View Billy's video here.
The Concierge Collective
We understand that sometimes the balance between work and home can be tricky and there never seem to be enough hours in the day. We've recognised this and are delighted to introduce The Concierge Collective to Hopgood Ganim. You might already be familiar with The Concierge Collective as one of the EO members.
The Concierge Collective is the ultimate in outsourcing. Any task that you don't have time to do, you don't know how to start or simply don't want to do, they will manage it for you. You can send them anything (or everything) on your 'to do' list and they will manage it through to completion. They use their expertise, massive database of verified vendors and global connections to complete your Request.
It might be as simple as having your shoes repaired, researching a new mobile phone deal, organising Christmas gifts, catering a party at home or securing tickets to sold out shows in New York. Literally, anything that is on your list, they can manage it for you.
We would like to give each team member "An Invitation to Experience A Concierge". This means that you can submit one Request to the Concierge Collective team for free.
To find out more about their services, visit their website here.

HR News & Updates
Anniversaries

Karen Evans – 10 Years
Jonathan Fulcher – 8 Years
Sharon Gilmore – 3 years
Andrew Clements – 3 Years
Isabel Vidot – 3 Years
Emma Scotney – 1 Year
Douglas Johnson – 1 Year




Birthdays

February
27 - Michelle Hall
27 - Claire Bruggemann






March
01 - Adele Garnett
01 - Sean Barrett
02 - Rachel Hopkinson
03 - Nicole Gittins
04 - Pia Maurelli
05 - Jason Down
New Starters
Please join me in welcoming Robert Oldham. Robert has joined our Perth office as an IT Support Officer.
Please make Robert feel welcome.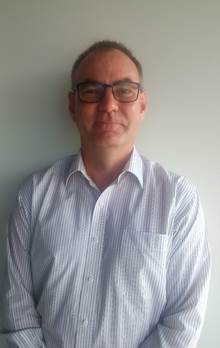 Returning from Parental Leave
On Monday 27 February, Alison McKee will be returning from Parental Leave. Alison is an Associate with the Resources and Energy team.
Trading Post
Looking to pick up a bargain? Head to our Trading Post on iHop!
Contact Helen Gambley if you would like her to add something to the post.
To entice you, here are some recent additions in the Trading Post you might like below.
Recent Additions:
1972 MG B Roadster - Yellow
Curling Iron
2010 Nissan X-Trail - Silver